Consumers' inflation expectation in Argentina remains steady at 25%, says UTDT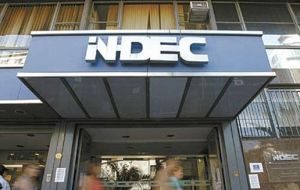 Argentina's 12-month inflation expectations were unchanged for a sixth straight month in August, according to a closely watched survey published by the Torcuato Di Tella University.
The university, UTDT, said this week the median estimate of inflation over the next 12 months was steady at 25%. The average of the responses, meanwhile, was 29.2%, up from 28.4% a month ago.
According to the national statistics agency Indec, July's inflation was 0.8% on the month and 9.7% on the year, but most economists accuse the government of manipulating the data and say prices are actually growing at more than twice that pace.
"Again the public is expecting inflation over double what analysts are predicting will be the official figure," UTDT said. "This difference reflects the lack of credibility in official figures."
High government spending and lax monetary policy are stoking runaway inflation.
The wide divergence between private-sector estimates and Indec's data has led the government to penalize economists and even file criminal charges against one research firm.
Opposition congressmen have started publishing their own monthly inflation report based on the average estimates provided by eight research firms. That report put July prices up 1.6% on the month and up more than 23% on the year.