Did Argentina Trade Visas for Holocaust Loot?
Saturday, September 3rd 2011 - 08:19 UTC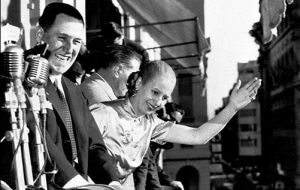 A new book about the darker side of Latin-American politics alleges some disturbing dealings between Argentina and Hitler's cronies.
Eva Peron has been accused of accepting treasures stolen from wealthy Jewish families during the Holocaust in return for using Argentina as a safe haven for Nazi war criminals. According to a new book, the former first lady and her husband, President Juan Peron, kept quiet about the number of Nazis fugitives who were hiding out in Argentina after the Second World War.
Among those who fled to the South American country was Adolf Eichmann, a key supporter and organizer of the concentration camps. He lived under a false name and worked for Mercedes Benz until 1960, when he was kidnapped by Mossad agents and taken to Israel. He later faced trial and was hanged for the war crimes he committed. Josef Mengele, the Nazi "Angel of Death" responsible for human experiments on Holocaust victims, also found refuge in Argentina and lived in South America until his death in 1979 at the age of 67.
In 'The Politically Incorrect Guide to Latin America,' authors Leandro Narloch and Duda Teixeira wrote: "It is still suspected that among Peron's possessions, there were pieces of Nazi treasure that came from rich holocaust victims' families killed in concentration camps." They added "Peron himself even spoke of goods of German origin that the Argentine government had appropriated."
Switzerland is said to have launched an investigation into whether Argentina deposited stolen Nazi loot into its banks after the war. In 1947, the then First Lady Eva Peron included a brief trip to Switzerland during a publicity tour of Europe to try and boost the image of her husband's regime abroad. According to historians, she may have opened at least one secret Geneva account to stash funds and valuables she allegedly received from Nazis in exchange for Argentine passports and visas.
The second wife of Juan Peron, Evita, was given the official title of "Spiritual Leader of the Nation" by the Argentine Congress before her death from cancer in 1952 at the age of 33 and is still regarded as a national heroine. Cristina Fernandez de Kirchner, the country's current President, in an interview with Time magazine said women of her generation owed a huge debt to Peron for her "example of passion."
Neil Russell, SeAled PR - Stanley