Argentine September official inflation 0.8%, less than half private estimates
Saturday, October 15th 2011 - 04:30 UTC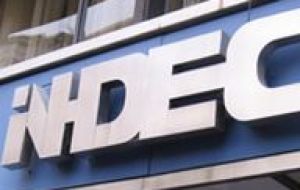 September inflation in Argentina climbed 0.8%, less than half the estimate from private consultants, according to the latest report from the discredited Statistics and Census Institute, Indec. In nine months accumulated inflation reached 7.3% and compared to a year ago, 9.9%.
According to Indec September was the eighteenth month running that official inflation fluctuates between 0.7 and 0.8%.
Earlier this week the Congress index which is an average of private consultants, banned from making public their estimates, marked 1.89% for September, accumulating 24.04% in the last twelve months.
Likewise wholesale prices climbed 0.9% in the ninth month of the year, and registered a 9.5% increase so far and 12.6% in the last twelve months.
The construction-related costs soared 1.4% in September and gained 11.7% during 2011 and 17.9% in the last twelve months.
According to Indec food prices were up 0.9% with vegetables rising 3% and fruit 1.9%. Beef was up 0.6%, cooking oil and fats 1% and bakery produce, 0.7%. Clothing in September was up 1.2% and shoe-wear, 0.8%. Home equipment increased 1.5% and rents. 0.5%.
Finally health attention was up 1.2%; leisure, 0.9% and education, 0.9%.
Likewise the Basic Food Basket (CBA) costs soared 1.2% during September, accumulating 6.6% so far this year according to Indec. The index, which only includes foodstuffs, hit 616.65 pesos (approx 145 dollars).
On the other hand, the "total basic food basket" (CBT) rose 1.1% in September to 1,362.73 pesos (approx 320 dollars), and climbed 8.8% in the first nine months of the year. The CBT index is made up of a number of foodstuffs and services deemed essential for a family of four to survive a month.