Falklands' government contracts highly qualified staff for senior posts
Saturday, October 15th 2011 - 04:16 UTC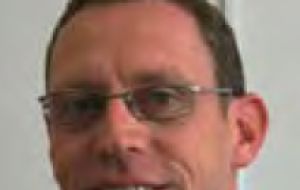 The Falkland Islands Government has announced the appointment of two senior officials. Simon Fletcher has been appointed to the role of Director of Central Services and succeeds Andrew Lee who previously held the position when it was titled Director of Procurement and Efficiency.
James Fotheringham is the new Head of Policy and he has already arrived in the Islands. He holds an MSc in Business Economics from the University of Strathclyde and completed his undergraduate studies in Economics at the University of Strathclyde.
James began his career in 1993 as an economist working in a specialist consultancy firm providing policy and practical advice to local and regional government agencies in Scotland, particularly focusing on approaches designed to foster and grow clusters of economic activity in rural areas.
James later moved to London to further his career, working extensively with the English Regional Development Agencies and local authorities across the UK on a wide variety of economic development projects, including the establishment of a new University in Cornwall and the development of a new creative industries learning campus in Essex.
Over his career to date he has gained an in-depth understanding of the issues and challenges facing rural economies through a variety of studies that included a detailed economic assessment of the impact of foot and mouth disease on the UK agriculture and tourism industries; a strategic review of ports and harbours in Cornwall (that included examination of opportunities for the development of local fishing ports); and a specific study that examined the economic potential for the development of an airport and tourism development on the island of St. Helena.
Mr Fletcher brings more than 10 years of senior management experience having worked in the private and public sectors both in the UK and in Japan. Since 2003 he has been working for Local Government in the UK, managing multiple services at a senior level.
In his last role, from 2009, he worked as Assistant Director concurrently across two Councils in North Yorkshire, writing and implementing shared service business cases as well as managing large complex service areas and functions such as ICT, Local Taxation, Communications, Customer Services, Economic Development, Tourism and Planning Policy.
In addition he led corporately on strategic partnerships, performance management, customer service excellence, equalities and supporting the delivery of broadband access in rural North Yorkshire.
He has also worked for a Japanese chemical manufacturer and was responsible for setting up the UK offices in Hull, East Yorkshire. Once these were established, the focus of his role changed to communications where he led on brand management, engagement with the local community and helping to establish the manufacturing site with the European market.
Prior to this, between 1996 and 2001, he lived and worked in Japan. Following three years as an English language teacher for the Japanese Government in Aomori, northern Japan, he moved to Mie, in the south when an opportunity to buy a small private language school arose.
Mr Fletcher completed his degree in Business Administration in Cardiff, through the University of Wales, and a Post Graduate Certificate in Management with the business school at Teesside University and is married with one child.