Canada freezes contributions to UNESCO, following vote on Palestine
Wednesday, November 2nd 2011 - 04:48 UTC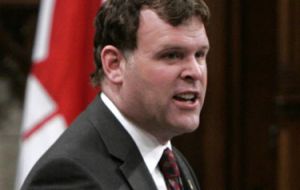 Canada will not contribute more to UNESCO to make up for a shortfall after the US cut its funding over the Palestinians joining the UN cultural body, Foreign Minister John Baird said Tuesday.
The UN Educational, Scientific and Cultural Organization on Monday adopted a resolution to admit Palestine, with 107 countries voting in favour, 14 including the United States and Canada voting against, and 52 abstaining.
The United States, a staunch ally of Israel, quickly said it would cut all funding to the Paris-based UN body, in accordance with a 1990s law banning the financing of any UN organization that accepts Palestine as a full member.
"Canada is deeply disappointed by the decision taken by UNESCO," Baird told reporters. "As a result of this decision, Canada has decided to freeze all further voluntary contributions to UNESCO."
Canada contributes about 10 million dollars a year to UNESCO. That funding will not be withdrawn, Baird explained.
However, "the bottom line is there's going to be a large hole in UNESCO budget because of the American law which withdraws funding and people at UNESCO should not look to Canada to fill that budget hole," he said.
"They'll have to go to the countries that supported this resolution, that caused this budget loophole," Baird added.
"Canada has also decided that we are currently not considering any new funding proposals for UNESCO programs," he said.
Meanwhile in a series of retaliatory moves against the Palestinian Authority, Israel on Tuesday night decided to accelerate Jewish construction over the pre-1967 lines and temporarily suspend the transfer of tax funds to the PA.
Israel's decision to build new housing units in east Jerusalem and two West Bank settlements 'will destroy the peace process', the PA warned.