Change of attitude? CFK tells street protestors to respect fellow citizens
Wednesday, November 2nd 2011 - 04:50 UTC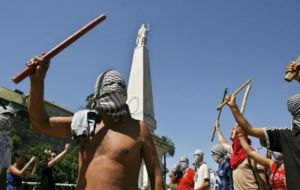 President Cristina Fernández de Kirchner, CFK, blasted on Tuesday union protesters who set a roadblock in the Ricchieri highway, one of the main routes of access to the Argentine capital Buenos Aires.
"That wasn't social protest, but a ridiculous ploy" said Cristina Fernandez before boarding the Tango 01 presidential plane en route to France where she's due to attend the G20 Summit.
Earlier, Cristina Fernandez urged citizens "not to protest on the streets, but to do so on sidewalks and squares" while inaugurating new infrastructure of a local hospital via video conference from the Government House.
"I say something that angered me today. That roadblock on the Richieri highway, led by UATRE farm hands union, had to be controlled by over a hundred of highly specialized agents. It's almost a crime to remove agents that are looking after other people" CFK stated.
"We won't criminalize social protests, but what happened today wasn't a social protest but a ridiculous ploy by people wanting to be detrimental on fellow citizens," she added.
The comments could signal a radical change of attitude from what was common policy and even promoted by her deceased husband and former president Nestor Kirchner (2003/2007) who closely nurtured relations with Argentina's powerful organized labour unions.
Furthermore the former leader financed the government's own street militants groups (similar to brown shirts) that kept protestors in bay and gave the impression of a close alliance with the unions and an administration extremely careful of not limiting the right of free expression and of reunion.
However CFK is known to disapprove of such demonstrations that distort traffic and block Buenos Aires and her message leading to the elections and following results has been one of reconciliation and national union.
This could include beheading the leader of organized labour, Hugo Moyano who dominates the 'streets' of Buenos Aires but has become too powerful to the extreme on several occasions of having challenged CFK political decisions.
At one point he demanded that an organized labour representative should have been her presidential ticket companion and wanted more organized labour members in the Lower House lists to Congress. Moyano also made no secret that in the same way a Lula da Silva, former union leader, became presidency he could to the same in 2015.
When the challenge and pushing of Moyano went too far, CFK threatened at one point with not running for re-election.