"HMS Clyde" celebrates four years patrolling the Falkland Islands waters
Thursday, November 3rd 2011 - 07:52 UTC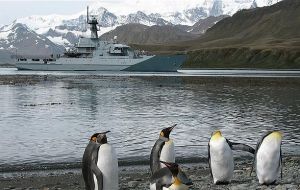 "HMS Clyde" celebrated her four years patrolling the Falkland Islands and a special guest Second Sea Lord Vice Admiral Charles Montgomery was on hand as part of a visit to Royal Navy personnel in the South Atlantic Islands.
HMS Clyde arrived in the South Atlantic in late September 2007, replacing HMS Dumbarton Castle, one of two Castle-class vessels which had taken it in turns to patrol Falklands' waters for a quarter of a century.
Unlike those two Castle-class ships, which spent around three years at a time in the Southern Hemisphere, Clyde – an extended version of the Fishery Protection Ships found around the UK daily – does not return home (officially she comes under the Portsmouth Flotilla, although East Cove Military Port is her typical base).
As flight crews change, infantry regiments hand over to the next group of soldiers and aircraft types come and go, Clyde has remained a constant presence since 2007.
During that time she's conducted countless patrols, visited most of the settlements of West (the less populous) and East Falkland, providing a permanent reassurance to islanders.
To maintain that permanent presence, the ship's company of 42 rotates every six months. The rotation and the fact that the 'small ship' community often like to stick together means some of those 42 sailors have been here before.
ET(ME) Craig Wiggins is on his third spell on Clyde; he and shipmate LS Hearn brought the ship out of build in Portsmouth (and Baz also completed a South Atlantic deployment in Dumbarton Castle), while PO(AH) Mark Brook joined the ship shortly afterwards on aviation trials.
All three were on the inaugural deployment down south and were aboard four years later for the anniversary. For PO Brook, who's in charge of the flight deck, the attachment to the islands is particularly strong. He's engaged to Emma from Stanley, and the two will tie the knot next year.