Obama/CFK meeting "warm" but Argentina must pay its debts
Thursday, November 10th 2011 - 07:36 UTC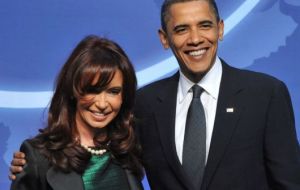 The US referred to last week's meeting between Barack Obama and President Cristina Fernández as "warm," but once again "encouraged" Argentina to pay off the debt it holds with US bondholders and companies.
"I don't agree with those who say that we're punishing Argentina. I would say the US government is encouraging Argentina to settle its disputes with bondholders within the ICSID, and take any necessary steps to completely normalize the situation with its debtors" spokesman of the Department of State Mark Toner said on Wednesday.
ICSID stands for the World Bank's International Centre for Settlement of Investment Disputes.
Cristina Fernández met with President Obama once the G20 summit in Cannes was over last week. They discussed bilateral relations and Argentina's debt with the Paris Club.
The US Department of State assured that the meeting was "warm" and "a good way to restart the relationship".
During Toner's press conference, he addressed the recent US decision to vote against two Inter American Development Bank (IDB) credits that would have gone to Argentina, only four days after Obama met with Cristina Fernández .
He explained that Argentina must first resolve in the ICSID two open disputes it has with two US corporations that are accusing the Argentine Government of refusing to pay, in compliance with rulings in their favour.
However, Toner asked the journalists present to pose such questions to the US Department of Treasury.
Toner also recalled that Argentina must normalize its relations with public debtors, such as the Paris Club, and private ones, such as the bond holders that were left out of the country's bond swap.
He concluded by clarifying that "this didn't mean that the meeting between Obama and Cristina had not been good," and assured that both presidents "had had a very good dialogue in Cannes".