Strong support in Caribbean countries for Falklands' right to self determination
Tuesday, November 15th 2011 - 18:46 UTC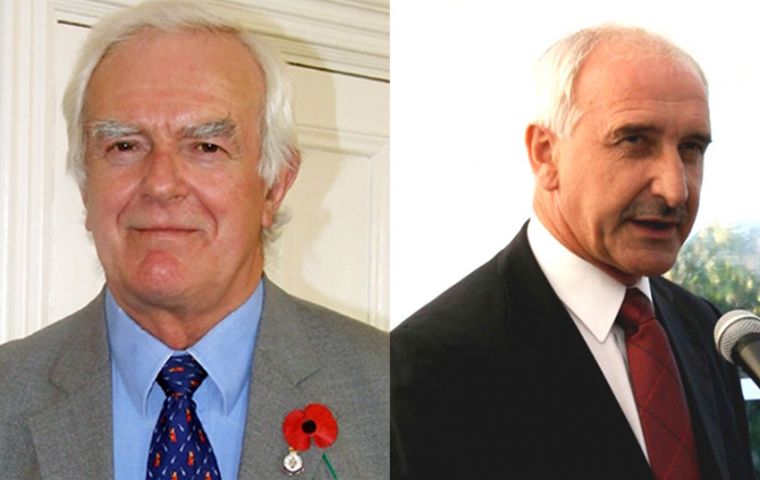 Falkland Islands lawmakers said on Tuesday they found a very positive attitude from Governments and civic leaders in support for self-determination in all non-independent territories during their current round of visits to Caribbean independent countries.
Members of the Legislative Assembly Mike Summers and Roger Edwards are currently in Dominica having visited St Kitts & Nevis and Antigua & Barbuda where they met with Prime Ministers and senior officials to discuss the Falkland Islands and share first-hand experiences of managing the South Atlantic islands economy, internal governance and self determination.
"There is a very positive attitude from both Governments and civic leaders to support for self determination in all non-independent territories" such as the Falkland Islands, said MLA Summers.
He added that "we are satisfied with the reception we have received and the discussions that have taken place".
MLAs spoke of the challenges the Falklands face in the United Nations for support for their right to self-determination as a non-independent territory, "respect for this principle remains a cornerstone of the United Nations Charter".
"Caribbean Governments are represented on a number of relevant multi-lateral bodies where the issue of self-determination is raised" pointed out MLA Summers.
In Antigua the British High Commission said in a release that the Falkland Islanders remain a small, vulnerable, but distinct and resolute island people.
"Like many peoples in the Americas, many of the Islanders can trace their families back over several generations, having arrived from Europe through natural waves of 'free choice' migration in the mid-1800s. The current Falklands people descend from the first known people to have settled the Falkland Islands over generations, as it had no indigenous population".
Likewise many advances have been made in the constitutional relationship between the Falklands and the UK since those early colonial days.
"It is now a relationship based on partnership, shared values and the Falklands peoples' right to determine whether they wish to retain their link with the UK.
"The Falklands has developed its own full legislative and executive branches of government, with a dedicated civil service to implement Falklands' government policy"