A third of metropolitan Buenos Aires live below poverty line claims Catholic Church
Monday, November 21st 2011 - 15:31 UTC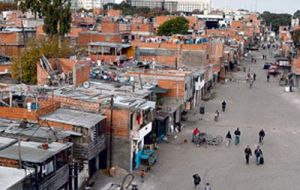 Over a third of metropolitan Buenos Aires, 34.9%, live below the poverty line which is equivalent to 4.4 million people, more than double the official Argentine government estimate, according to a paper from the Argentine Catholic University, UCA, and the local Caritas chapter from the Catholic Church.
The official stats office Indec figure says that the poverty condition affects 15.2% of the population from the Argentine capital and thirty adjoining townships.
The discrepancy points out UCA stems from the different definition of poverty: for the Argentine government families with an income below 1.250 Pesos (equivalent to 292 US dollars) are considered poor while in the report, and for the Argentine Catholic Church the line is 2.150 Pesos, approximately 502 dollars.
The UCA-Caritas report is based on 1.722 interviews which also show that 10.8% of the 12.8 million people in that geographical area live in shanty towns, most of them with no access to basic services such as drinking water and sewage.
Another 54.7% of residents in the Argentine capital and the surrounding thirty townships which are included in the paper and belong to the province of Buenos Aires (the largest and richest of the country) claim they lack police protection and one out of three over 18 claim to have been victims of some sort of crime in the last twelve months.
The paper which was released a few days after the Argentine Catholic Church renewed its authorities refers to the area most densely populated of the country which has a total population of 40 million.
However poverty in Argentina has been diminishing sustainedly from a 57.5% extreme index in October 2002 in the midst of the melting of the economy and a major default on its sovereign debt, considered one of the worst of the country's recent history.
According to the controversial Indec poverty, among the Argentine urban population, that is in the 31 most densely populated districts of the country was 8.3% during the first quarter of 2011, which represents a drop of 3.7 percentage points compared to the same period a year ago.