"It's very tough living inside Mercosur", admits Uruguayan head of the Industries chamber
Friday, November 25th 2011 - 06:50 UTC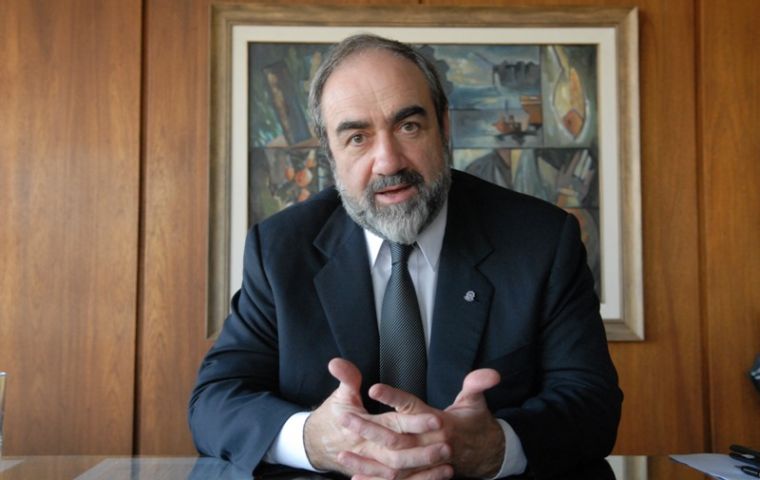 Uruguay's president of the Chamber of Industries, (CIU) Washington Burghi said that relations with Mercosur partners are becoming ever so complicated and if these problems are not addressed "we will be in serious trouble because the whole world is going through tough situations".
"Our natural markets are out neighbours but if they are not open, Uruguay will face very serious problems" warned Burghi.
"It's very tough living inside Mercosur, particularly when we go to the supermarkets and see the shelves full of Mercosur products", which means "our neighbours have free access but at the same time those partners block us from their markets", pointed out Burghi.
However he admitted that problems with Brazil are more flexible: "every now and then we have an incident at the border controls but with the help of the (Uruguayan) government we manage to solve them".
"But where problems remain blocked and there are no solutions is with Argentina which has simply shut down all imports, not only from Uruguay but from the rest of the world", said Burghi who gave the example of the inconveniences faced by the book industry.
"Argentina is not competitive with the books it produces; so they are edited in Argentina but printed in Uruguay. However President Cristina Fernandez said it was unconceivable 70% of the books were printed outside the country, and she ruled: this can't continue…"
Burghi's comments are not far from those publicly expressed by Uruguayan President Jose Mujica who admitted the difficulties on making decisions when you belong to Mercosur.
"It's difficult to make decisions when you belong to Mercosur and someone is not convinced or not accompanying you. But it's even tougher to leave," Mujica said.
"I defend Mercosur but I won't change Argentine or Brazilian policies, you simply have to adapt. But I don't want to be trapped in such a situation. The country needs to diversify and we will" the Uruguayan president was quoted.
Finally referring to tourism and the coming season Mujica asked: "do we want the Argentine tourists to visit us this summer? Well sometimes you have to swallow some awful toads because that is good for the country. It's not a matter of being a tough guy or an evil guy, I must look for what is the better tactic so we can advance and achieve those things we need as a country".