Humala sends troops to end protests against a 4.8bn dollars gold mine project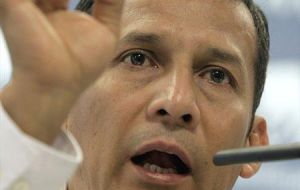 Security forces fanned out across Peru's Cajamarca region on Monday to enforce emergency measures decreed by President Ollanta Humala to put an end to 11 days of protests against a 4.8 billion dollars gold mine project.
Humala, a former army officer, called leaders of the environmental protest "intransigent" after weeks of mediation efforts failed again late Sunday, prompting him to give the military and police extraordinary powers to end rallies that have shut roads, schools and hospitals in Cajamarca.
Protesters say US-based Newmont Mining's Conga mine would hurt local water supplies and demand that it be cancelled. But the government says the largest mining investment in Peruvian history would generate thousands of jobs and huge tax revenue.
The conflict has tested populist Humala's resolve to govern as a moderate who can simultaneously help Peru's poor and keep big business happy. Critics had urged the president to take a firmer hand in breaking up the strike, saying left-wing groups had infiltrated the protest marches by local residents.
"Normal activities are resuming. People are returning to work, going to school and reopening stores," Interior Minister Oscar Valdes said in Cajamarca, nearly 1.000 km north of the capital Lima.
"The problems of water and the mine need to be resolved. The government doors are open to dialogue. This constitutional decree shouldn't alarm anybody," he said on RPP radio.
The decree marked the first time Humala has used special powers to defuse a social conflict over mining in Peru, where disputes in some 200 communities across the country threaten to delay billions of dollars in planned mine and oil projects.
Gregorio Santos, the governor of Cajamarca region who has led the protests, said residents would return to their normal life but continue to peacefully oppose the mine.
"The president lacks the power of persuasion so he has had to resort to the power of guns. When you can't convince with words you rely on gun barrels," an angry Santos told reporters.