Spanish government 'concerned' with Argentine harassment of fishing vessels in Falklands' waters
Monday, December 5th 2011 - 20:32 UTC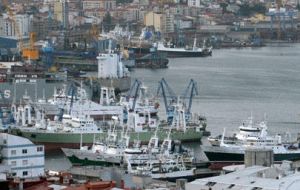 The Spanish government has expressed 'concern' about claims from the Vigo-based fleet operating in the south-west Atlantic which has come under continuous harassment from Argentine naval patrols claiming they are fishing 'illegally' in 'Argentine waters' in spite of having licences awarded by the Falkland Islands government.
This was the first reaction from the Spanish Sea Secretariat to a recent letter from the Vigo fishing vessels owners, many of whom operate in association with Falkland Islands companies, complaining about Argentine patrolling and high seas questioning and sanctioning in South Atlantic fisheries, including when vessels approach the port of Montevideo for unloading and to renew supplies and fuel.
"The Spanish Sea Secretariat is collecting all the corresponding information" related to the issue "with the purpose, if that is the case, of taking all the pertinent steps before the Argentine authorities", according to ministerial sources from Madrid quoted by the Vigo daily El Faro.
The reply still tepid, follows not only the Vigo companies claims but a letter from the Argentine embassy in Madrid in which it accuses the Spanish fleet, or with 'Spanish capital', of involvement in "illegal fishing" in Argentine waters, as it is clearly spelt out in the diplomatic reply to the complaint from the association of fishing vessels operators, Aetinape in Vigo.
In the letter the Argentine embassy points out that Argentina makes routine controls of Spanish vessels with 'British licences' and of other flags but of Spanish capital, because the "Malvinas, South Georgia and South Sandwich Islands and adjoining maritime spaces are integral part of Argentine territory".
The argument is that since Argentina considers Malvinas Islands waters its territory, Spanish vessels are accused of illegally catching in those fisheries because they lack the authorization from the Argentine government to transit through those waters, as established in an Argentine decree from last year, according to Aetinape sources.
The same sources point out the long detour that many Spanish vessels must undertake to avoid sailing through waters Argentina considers sovereign, particularly when they are heading for Montevideo.
"Vessels are forced to make a long alternative course with greater costs in time and money because of fuel costs to avoid Argentine pressure and other 'obstacles' including when in the River Plate", which is split between Argentina and Uruguay. Vessel captains have "to sail through complicated zones, not too deep which also represents a risk for navigation", according to Jose Ramon Fuertes Managing Director of the Vigo Fishing Vessels Cooperative, Arvi, who claims Argentina is ignoring international law and the right to free passage.
"It's the same old story with the Argentines and their claim over Malvinas, which once again has us involved in an issue we have nothing to do, much less with political litigation. Our fishing activities, practiced entirely legally must be respected and guaranteed", added Fuertes.
Finally Fuertes claimed that "again they are attacking the Spanish fishing fleet or with Spanish captains, when in the south-west Atlantic other vessels operate with no questioning or obstacles so we can only interpret this situation as another affront".