Mercosur planning to change rules to ensure full incorporation of Venezuela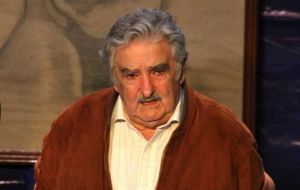 Uruguayan president Jose Mujica announced Mercosur is considering the modification of legislation so that Venezuela can definitively be incorporated as a full member to the South American trade block, which has been blocked for several years now by the Paraguayan Congress.
"We talked about the review of legal criteria in such a way that on December 20 when the Mercosur summit in Montevideo, it can open the way for Venezuela's full membership, something on which both Argentina and Brazil, and Uruguay are in accordance", said Mujica.
"The only thing I spoke with the Argentine president is that Mercosur legislation, as currently drafted does not allow Venezuela's incorporation unless the Paraguayan Senate approves it, even when the Paraguayan government supports Venezuela's full membership", added Mujica.
The Uruguayan president revealed that the possibility of such modifications were addressed by the presidents at the recent Caracas summit for the foundation of the community of Latin American and Caribbean States, Celac and last Saturday during the swearing-in ceremony of President Cristina Fernandez in Buenos Aires.
Mujica said that in his talks with Cristina we 'confirmed' to advance with this idea and that 'we would have to talk it over with Paraguayan president Lugo'.
Lawmakers from Argentina, Uruguay and Brazil have approved the incorporation of Venezuela as full member while the Paraguayan Senate, under control of the opposition, continues to postpone the decision. Mujica, Lugo and Brazil's Dilma Rousseff were present at the CFK taking office ceremony last Saturday.
Argentina, Brazil, Paraguay and Uruguay are Mercosur (founding) full members while Venezuela is in the process of incorporation, since its formal request in 2006. Chile, Bolivia, Peru, Colombia and Peru are associate members.
The Mercosur presidential summit is scheduled for 20 December in Montevideo when the six-month rotating chair will pass from Uruguay to Argentina.
Under the current statutes to modify the Asunción Treaty which rules Mercosur any review needs the consensus from the presidents of the four founding members, which basically also boils down to Paraguayan president Fernando Lugo and his fragile political situation.