China and Argentina ratify crossed support for Taiwan and Falklands' claims
Monday, December 26th 2011 - 11:19 UTC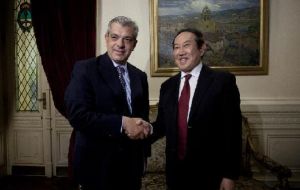 China ratified support for Argentina's sovereignty claim over the Falkland Islands. The message was delivered last week by Chinese President Hu Jintao's special envoy Jiang Shusheng and vice chairman of the Standing Committee of the National People's Congress and is part of the reciprocal policy in support of Taiwan as a province of China.
Jiang Shusheng made the statement during a meeting with the head of Argentina's Lower House Julian Dominguez who also underlined the recent Mercosur solidarity support to Argentina's request in the Falklands/Malvinas dispute.
The Chinese top official originally arrived in Buenos Aires as a special envoy from President Hu Jintao to President Cristina Fernandez swearing in ceremony last December 10.
"China will continue to support the Argentine claim of sovereignty over the Islas Malvinas", said Jiang Shusheng who added that "solidarity with Argentina on the Malvinas issue is an invariable position of China's foreign policy".
Jiang Shusheng also praised Argentina for its role as the rotating president of the Group of 77 of non aligned countries saying "Argentina worked for world integration and peace".
The Chinese official called for the governments of Argentina and UK to resume "Malvinas negotiations" thus complying with the principles and objectives of the UN Charter and the General Assembly resolutions, with the purpose of finding a peaceful solution to the sovereignty dispute".
China has long supported Argentina's claim over the Malvinas Islands, the same way that Buenos Aires acknowledges the principle of one China regarding the dispute with the island of Taiwan identified as the Republic of China.
Lawmaker (and former Agriculture minister) Domínguez said that the Argentine government "has complied with all the dialogue requests regarding the Malvinas issue as mandated by the UN resolutions because that is the essence of the democratic system".
"In response to the prudent and intelligent request from our President (Cristina Fernandez), during the last as well as in previous Mercosur meetings, for solidarity in support of our sovereignty rights over the Malvinas and other South Atlantic Islands, there has been an immediate and positive reply to that request from member countries", said Dominguez.
"We will continue upholding firmly our dialogue vocation with Great Britain before international bodies, hoping this happens as soon as possible" pointed out the Argentine lawmaker who concluded stating Argentina wants the sovereignty dispute to be acknowledged.
"We categorically reject the standing political, diplomatic and an even military pressure UK has being doing with its representatives through the media, which are in the fringe of aggression, repudiated by all countries living in democracy".
Jiang Shusheng at the Argentine Congress