Mujica: good relations with everybody, but Argentina and Brazil are crucial
Monday, January 2nd 2012 - 22:18 UTC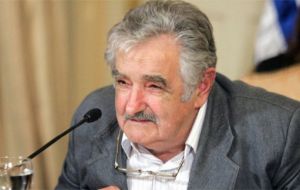 Uruguayan president Jose Mujica said he promotes good relations with the entire world but he is well aware of the significance of neighbouring Argentina for the Uruguayan economy and that "we must jump into the stirrup of Brazil".
In a long interview with the government financed daily La Republica, Mujica who has been strongly criticized for his close links and 'submission' to Argentina's Cristina Fernandez said that "I am well aware that when things go wrong for Argentina, we also suffer; bad relations with Argentina end being more harmful for us than for them, we only have to look back into history".
Mujica who on taking office in March 2010 managed in a few months to overcome several years of acrimonious relations with Argentina regarding the construction of a pulp mill and the dredging of the River Plate, said that Uruguayans tend to mix Peronism with Argentina.
"What happens in Uruguay is that there is a strong anti Justicialismo (Peronist) feeling which ends up being anti-Argentine. I try to nurture links with everybody in Argentina. I was at the reopening of the Colon Opera House which was hosted by Buenos Aires Mayor Macri. I'm a friend of (former Argentine caretaker president) Eduardo Duhalde, who visited me at home, I have friends of all colours in Argentina and I cultivate those links".
Conservative Mauricio Macri is the mayor of Buenos Aires City and the main opposition presidential candidate for 2015. Duhalde opened the door to the Kirchner couple but ended as sworn enemies.
Mujica added he believes in a policy of friendship and good relations because they are bound to be more productive than confrontations and "let us not forget that countries don't move from the neighbourhood".
"It's so easy for Argentina to spoil our summer season, and they have done it in the past, by simply making it difficult for half a million Argentines to cross over to our beaches".
Although "of what I'm sure is that Uruguay must jump into the stirrup of Brazil because they are bound to become a super power, one of those that will sit and decide in the world's big table".