Message to Iran: UK ready to use military force to keep Strait of Hormuz open
Friday, January 6th 2012 - 06:50 UTC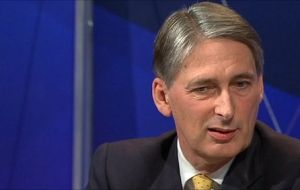 Britain on Thursday signalled its readiness to use military force if necessary to keep the Strait of Hormuz open, warning Iran not to miscalculate over the West's determination to prevent disruption to the key shipping route.
Iran threatened last week to stop the flow of oil through the Strait of Hormuz if foreign sanctions were imposed on its crude exports over its nuclear ambitions, a move that could trigger military conflict with economies dependent on Gulf oil.
"Alongside the US 5th Fleet in the Gulf, we have naval assets, we have mine counter-measures capability, we have a frigate present there, and we are an integrated part of the allied naval task force in the Gulf and one of the missions of that task force is to ensure that those shipping lanes remain open," British Defence Secretary Philip Hammond told Sky News.
Iran had made similar threats before, but "there should be no miscalculation by the Iranians about the importance that the international community attaches to keeping the Straits of Hormuz open" Hammond said, speaking from Washington where he has gone for talks with his US counterpart Leon Panetta.
Fears of supply disruptions due to rising tensions between the West and Iran have sent oil prices higher.
"Any attempt to close the Straits of Hormuz would be illegal and we need to send a very clear message to Iran that we are determined that the straits should remain open," Hammond said.
Britain's Royal Navy participates in the Combined Maritime Forces, a US-led, Bahrain-based naval flotilla drawn from 25 nations whose missions include counter-piracy, counter-terrorism and security in the Gulf.
The Strait of Hormuz is one of the world's great commercial arteries and its closure would have very significant consequences for the economies of the world, Hammond said.