MP proposes British Overseas Territories be represented in Westminster
Thursday, January 26th 2012 - 18:58 UTC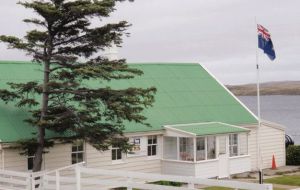 Conservative backbench MP Andrew Rosindell has called for the Isle of Man and other Crown Dependencies and British Overseas Territories, including the Falkland Islands, South Georgia and South Sandwich Islands to be represented in Westminster.
In a submission to the UK Parliament's Backbench Business Committee, Mr Rosindell said it was wrong that Britain's dependencies were ultimately governed by the UK parliament, but were given no voice at all.
He told the committee: 'The UK, our Government, our Parliament, ultimately governs 21 territories around the world, but those territories have no voice in this Parliament.
'They elect no representatives and have no representation, unlike former colonies and territories of other countries, such as Australia, Denmark, France and the Netherlands, which have external territories committees to which representatives are elected.'
The Romford MP, who chairs the UK's All-Party Parliamentary Group on the British Overseas Territories, continued: 'We give our 21 territories nothing. All they have is an informal all-party group, of which I am proud to be chairman.
'We have a democratic hole, with hundreds of thousands of people for whom we make laws, whom we ultimately govern and on whose behalf we can declare war, make foreign policy and sign international treaties. We have substantial control over their domestic affairs. Those territories that have sterling are bound by much of our own economic policy.
'In a range of areas, although the Crown Dependencies and Overseas Territories are not part of the UK they are substantially influenced and ultimately governed by this Parliament, so it is wrong for them to have no voice at all.'
Mr Rosindell insisted on a debate on a 'whole load of issues relating to our territories and dependencies'.
He suggested that this, the year of the Queen's Diamond Jubilee, was an appropriate time to establish the principle that 'at the very least' the UK Parliament gives recognition to these jurisdictions.
'Our 21 territories deserve to be given that kind of recognition and I hope the committee will give that due consideration,' he emphasized.
The Crown Dependencies include Isle of Man and Channel Islands: Baliwick of Jersey, Baliwick of Guernsey (includes Guernsey and its dependencies) while the Overseas Territories are Anguilla, Bermuda, British Antarctic Territory, British Indian Ocean Territory, British Virgin Islands, Cayman Islands, Falkland Islands, Gibraltar, Montserrat, Pitcairn, Henderson, Ducie and Oeno Islands, St Helena and St Helena Dependencies (Ascension and Tristan da Cunha), South Georgia and South Sandwich Islands, Sovereign Base Areas of Akrotiri and Dhekelia and The Turks & Caicos Islands