Cameron rings Chilean president to discuss Falklands and self determination
Wednesday, February 15th 2012 - 05:42 UTC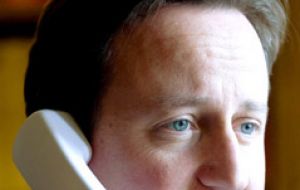 Chilean president Sebastián Piñera received a surprise phone call at his summer residence on Tuesday afternoon from PM David Cameron who referred to the current Falklands dispute.
According to the Chilean media discussions covered a wide range of issues, but 'undoubtedly' the British PM was insistent of informing the president of the UK position regarding the current situation of the Falklands and the sovereignty dispute with Argentina.
Apparently PM Cameron made it a point to emphasize the Islanders right to self determination and their choice to continue belonging to the UK while Piñera said that Chilean public opinion has always supported Argentina's claim over the Malvinas, but always retaining a peaceful dialogue with the two countries involved in the dispute.
Another issue addressed was the attendance of both countries to the G20 summit in Mexico and how PM Cameron and his coalition government are struggling to pull the UK out of recession.
PM Cameron also confirmed he would be visiting Chile in January 2013 in coincidence with the summit between the EU and the Community of Latinamerican and Caribbean states, recently created in Venezuela.