Brazil and Uruguay with the most expensive per capita Legislative branch
Wednesday, February 22nd 2012 - 17:33 UTC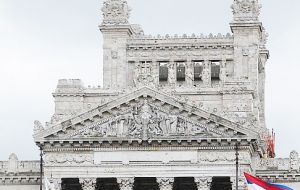 Uruguay has the second most expensive per capita Legislative branch and also as a percentage of the government's overall expenditure, although Uruguayan lawmakers earn half their best paid neighbours in Brazil, according to reports in the Montevideo press.
At the other extreme figure Venezuela and Costa Rica whose lawmakers figure with the lowest earnings: between 4.000 and 5.000 dollars per month. However Costa Rica next to Uruguay have the largest Legislative budget of the continent as a percentage of overall government expenditure.
The data comes a September 2011 report by Mexico's Economic Research and Teaching Centre, CIDE, which rapidly became headlines following on the controversy triggered by Argentine lawmakers that this month voted to more than double their salaries.
According to CIDE, Brazil lawmakers lead the region as the best paid with 15.950 dollars per month, followed closely by Mexicans, 12.310 dollars. Chilean members of Congress make 10.878 dollars per month and the Colombians, 10.240. At the other end figure Peru with 5.491 dollars, Costa Rica, 4.955 and Venezuela, 3.964.
Somewhere in between comes Uruguay with 7.500 dollars per month, approximately the same figure the Argentine members will make following the 100% increase.On average Latin American lawmakers are paid 6.712 dollars.
However each Uruguayan lawmaker has a per capita contribution cost of 19 dollars per year. The per capita cost is only higher in Brazil, equivalent to 24 dollars while the lowest contributors are Peru and Colombia, 4 dollars.