Unasur presidents invited to Tierra del Fuego on 2 April, anniversary of the Malvinas war
Wednesday, February 29th 2012 - 07:42 UTC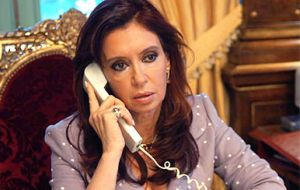 The Union of South American Nations, Unasur presidents have been invited by Argentina to a ceremony in Ushuaia, Tierra del Fuego, next 2 April when the official beginning of the Malvinas war three decades ago.
Although there has been no official statement on the event, Paraguayan diplomatic sources revealed that President Fernando Lugo has been invited to the ceremony in Tierra del Fuego, which officially under the Argentine constitution also includes Antarctica and the South Atlantic Islands (Malvinas).
The revelation follows President Lugo's frustrated attempts last weekend for a non official interview with President Cristina Fernandez in her residence Rio Gallegos, Argentine Patagonia.
However the closest President Lugo reached was Planning Minister Julio De Vido who received him at Rio Gallegos airport and Maximo Kirchner (son of Cristina Fernandez) who accompanied to a visit of the Mausoleum dedicated to former president Nestor Kirchner.
According to Paraguayan sources this is the third time Cristina eludes or "leaves President Lugo out in the cold" for unknown (official) reasons. However the Paraguayan diplomacy have traced the situation to a gender incident dating back to June 2009 when apparently Lugo publicly questioned Cristina Fernandez for her delay in arriving at the Mercosur summit which Paraguay was hosting in Luque.
The Argentine president reacted immediately and even went as far as accusing the former bishop of "misogynous".
Since then according to Paraguayan diplomacy, Cristina Fernandez has President Lugo in the spotlight and among other things has blocked the sale of Paraguayan power to Uruguay, which must cross Argentine territory.
For obvious reasons there was a protocol salutation on 28/29 October between the tow leaders when the mourning of former President Nestor Kirchner in Buenos Aires. But the Argentine president did not show up for the 14 May 2011 bicentennial independence celebrations in Paraguay or to the 28/29 June 2011 Mercosur summit in Asuncion.