Brazil sends letter to Blatter: no dealings with FIFA's Valcke: he's a bum
Monday, March 5th 2012 - 23:58 UTC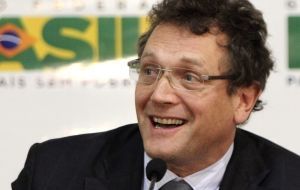 Brazil's Sports minister says he has delivered a letter telling FIFA that it won't deal with Secretary General Jerome Valcke during the country's preparations for the 2014 World Cup.
The letter was sent Monday and was addressed to FIFA President Sepp Blatter. It was signed by Aldo Rebelo, who on Saturday had announced the country's position regarding Valcke.
Valcke sent a blunt message on Friday asking the country to speed up its World Cup preparations: "You have to push yourself, kick your (backside)."
Rebelo said in the letter that Brazil was "shocked" by the "inappropriate" comments made by Valcke.
Brazilian presidential adviser Marco Aurelio Garcia also joined the fray and hit out at Valcke, thus confirming President Dilma Rousseff's support.
"This [FIFA] spokesman's name has been crossed off. This guy is a bum" Garcia told O Globo.
"The president [Dilma Rousseff] has better things to be worrying about than the comments of a boquirroto (a person who speaks too much and without thinking).
"He [Valcke] is a boquirroto but he's not created a problem for us - he's created a problem for FIFA" underlined Marco Aurelio Garcia.
Valcke, who used to work as a journalist, was appointed general secretary of FIFA in 2007.
Brazil's decision was a further escalation of a dispute with FIFA that has simmered for years as several Brazilian stadiums, hotels, roads and other basic infrastructure for the 2014 Cup run badly behind schedule.