Change in Argentine policy is "an attempt to collect support and look less mean"
Monday, March 5th 2012 - 06:04 UTC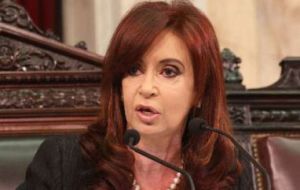 The apparent change in Argentine policy towards the Falkland Islands by offering three direct flights to the Islands from Buenos Aires instead of cutting the air link with Chile, as had been anticipated, was described by Chilean diplomatic sources as "an attempt to collect international support and look less mean".
The Chilean reaction comes just a few weeks before Argentine President Cristina Fernandez official visit to Chile scheduled for the end of March.
Last week Cristina Fernandez announced before the Argentine congress not only the proposal of three Buenos Aires/Falklands weekly flights with Aerolineas Argentinas, but also revealed she had instructed the Foreign Affairs minister and the ambassador in London to begin discussions on the review of the 1999 three-side agreement (Argentina, UK and the Falklands) which allows for the weekly Lan Chile flight Santiago-Falklands, with a monthly stop at Rio Gallegos.
The reason for the review is because "only us (Argentina) really complies with the (1999) agreements allowing two weekly flights to the Islands from Argentina", said Cristina Fernandez.
"We have instructed that negotiations begin for instead of the Lan Chile flight (which at the time it was decided would fly twice a month landing in Rio Gallegos), the flights are three but taking off from continental Argentina, Buenos Aires to the Islands and in Aerolinas Argentinas".
To be exact there is a weekly flight to MPA from Santiago, on Saturdays which returns on the same day. However once a month the scheduled flight stops at Rio Gallegos coming from Punta Arenas and the following week leaving MPA.
However Lan Chile sources quoted by La Tercera from Santiago said they have received no formal or official information on the issue from Argentina and that "the only flight that could be affected is the monthly call in Rio Gallegos".
Last year President Cristina Fernandez addressing the UN General Assembly announced that Argentina would review the 1999 agreement and ban Argentine air space for Falklands bound flights, if the UK did not comply with UN resolutions to hold talks on the Falklands/Malvinas sovereignty.
Although Mercosur members supported Argentina in barring Falklands' flagged vessels from calling at the region's ports, they have also repeatedly stated they will not blockade the Falklands' people.
"Any idea of a blockade would mean a gross violation of the Malvinas community human rights, and Uruguay will not be part of that", President Jose Mujica has stated on several occasions.
The British government position is that air links between the Falklands and the South American continent can only be decided by the people of the Islands.