Peru 'one step away' from ensuring cheap gas supply for the domestic market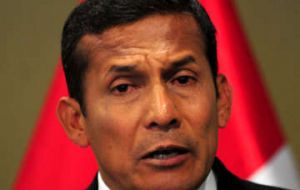 President Ollanta Humala announced Peru was "one step away" from reaching a deal with the consortium developing Block 88 of the huge Camisea gas field. The deal would ensure cheap fuel for Peru, for the next 25 to 30 years, reported the official news agency Andina.
"This has been a renegotiation with the Camisea consortium, without using any force or kicking over the table in any way," Humala said during an interview. He added it was one of his campaign promises, and that he "was close to fulfilling it".
Humala said Congress had passed a law that would encourage the widespread use of natural gas, and would establish a fund to lower gas prices for the poor, by up to 50%.
President Humala said his government was aiming to convert about 60.000 vehicles to run on natural gas, every year. "All this is being done quietly but firmly, because that is the will of the people and it is the decision I have made in my administration, and Ministers are fully committed to this objective".
The government has said that 2.5 trillion cubic feet from Block 88 are contractually tied to a company that exports liquefied natural gas, and the government has wanted the private-sector Camisea consortium to find other guarantees, freeing that gas for domestic use.
But even as Humala announced his breakthrough, Block 88 gas started to be exported from Pampa Melchorita. After months of delays, in late March an initial shipment of liquefied natural gas (LNG) was dispatched from the complex to Mexico's new re-gasification terminal at Manzanillo, built and owned by a consortium of Samsung, Mitsui and Korea Gas under contract to Mexico's Federal Electricity Commission
The Peruvian government signed a 40-year contract with the Camisea consortium in 2000, and the project came on-stream in 2004.
Pluspetrol Peru Corp. SA is the lead operator of the project, while other companies include US-based Hunt Oil Co., South Korea's SK, Tecpetrol, a unit of Argentina's Techint Group, Algeria's Sonatrach Petroleum Corp., and Spanish oil company Repsol YPF SA.