You build history the way you can, not the way you want, said CFK of YPF takeover
Thursday, April 19th 2012 - 06:04 UTC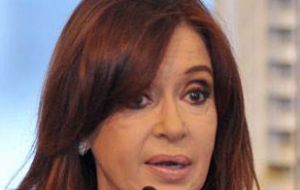 "You build history the way you can, not the way you want", said Argentine president Cristina Fernandez during an official ceremony in which she referred to the "recovery" of the country's main oil and gas corporation YPF, in the midst of the dispute with Spain's Repsol.
"We are recovering this strategic instrument in 2012. It's been nine years. Some ask why we never did this before. But you build history the way you can, not the way you want. History is not a straight path without stumbles and falls. It has its ups, its downs and its obstacles, which we must avoid," she said.
The Argentine president gave her speech on Wednesday as she attended a ceremony in the Tecnópolis science theme park, where she launched the new Tecnópolis TV network.
Last Monday Cristina Fernandez announced she was sending a bill to Congress for the nationalization of a majority stake in YPF, currently in the hands of Spain's Repsol that holds 57% of shares.
"We're moving forward, we're making important strides unthinkable off for many years. Much has been achieved since the collapse that occurred before 2003" said Cristina Fernandez adding that in 2003 former president and her late husband Nestor Kirchner said that the great energy problem of Argentina was "the de-nationalization and the sale of YPF shares".
"Now we are recovering that strategic instrument", but you don't make history as you want but as your can and in spite of all the obstacles because it is not a straight path without bumps".
In 1992, both then Santa Cruz governor and lawmaker Cristina Fernandez supported the privatization of YPF, promoted under president Carlos Menem.
But all this changed as of last December when the Argentine government targeted the take over of YPF.
Nevertheless until then on more than an occasion YPF, under control of Repsol was mentioned as a model corporation in Argentina.