One of Argentina's main textile groups prepares to abandon the Stock exchange
Wednesday, April 25th 2012 - 06:55 UTC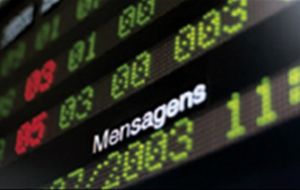 One of Argentina's main textile and shoe wear companies, Alpargatas belonging to the powerful Brazilian Camargo Correa group has begun the process to abandon the Buenos Aires stock exchange.
The conglomerate which holds a 91.42% stake of the group through Sao Paulo Alpargatas has made a public acquisition offer of all remaining shares for which it will pay 8.14 Argentine Pesos each compared to the current market value of 7.90 Pesos. The operation is valid until May 15.
Following that date Alpargatas Argentina will convene an assembly to approve and end to share trading and the voluntary abandonment of the stock exchange.
The Brazilian group Camargo Correa began trading in Buenos Aires back in October 2007. The objective is to take control of 100% of pending shares which is expected to demand an investment of almost 48 million Argentine pesos, approximately 11 million dollars.