Timerman tells Hammond world is safer with creativity than "bombing civilians"
Monday, May 7th 2012 - 04:11 UTC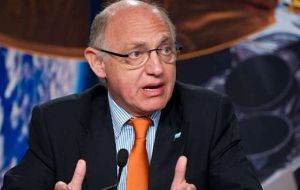 Argentine Foreign Minister Héctor Timerman replied to recent demands of an apology made by UK Defence Minister Phillip Hammond over a controversial Olympic advert shot in the Falkland Islands, and urged London to "honour the deaths of those who died in the 1982 conflict by constructing peace."
"In the last few days we have seen an intense battle led by the UK's Defence Ministry against the Argentine Republic. Mr. Phillip Hammond is a fearful adversary," Timerman said in a press release.
"Mr. Hammond has demanded an apology from Argentina for saying in an ad that our athletes train on Argentine soil in order to compete on British soil," he added.
"Mr. Hammond should know that the world is safer when you choose to use creativity rather than bombing civilians in independent countries," he continued.
In the release the minister "demands, as an almighty knight, for Argentina to express regret for the creativity of an ad that sums up our feelings. He has yet to provide details regarding which punishment he will enact against us if we fail to meet his demands."
"I suggest instead that he joins us in the negotiating table. That the UK doesn't need to maintain in the Malvinas the most militarized region in the world. One soldier for almost every three inhabitants," he said.
Timerman mentions that Hammond occupies the same post that in 1922 assaulted the 458 million people that lived under the British colonial empire. At the time Britain commanded 20% of the planet and "in that percentage was and continue to be our Malvinas, South Georgia and South Sandwich Islands".
He then recalled that Prime Minister David Cameron still hasn't replied to President Cristina Fernández' request to allow the Red Cross to act as intermediary in the Falklands so both British and Argentine soldiers buried 'in numerous nameless graves can be identified'.
"Let's honour the memory of those who died by helping their families have a grave where they can go cry to," he concluded.