Olympic/Malvinas ad: "creativity can't be censored, it must be applauded", says CFK
Tuesday, May 8th 2012 - 02:39 UTC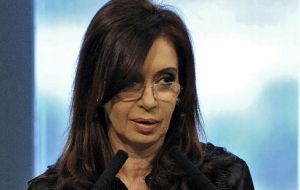 President Cristina Fernández said in relation to the controversial Olympic/Malvinas advert that "creativity can't be censored", on the contrary it should be "applauded" because it reflects the feelings of the Argentines. The head of state also rejected lifting the spot as demanded by Britain and the Y&R agency in New York.
"Some claimed to be offended by a spot that reflects the feelings of all Argentines. It is not at all aggravating. More offensive is the exploitation of natural resources and not respecting the memory of the dead or the UN resolutions on the Malvinas" said the Argentine leader in direct reference to recent statements coming from the British government.
"They have taken over something (Falklands) that doesn't belong to them" added the president arguing that UK is attempting to cover up something which "is untenable in the XXI century: colonialism and sending destroyers to intimidate us. But let me tell them that nobody is going to make us deviate from our policies"
"Argentina will always be open to dialogue. Those who are not are causing great damage to multilateralism" underlined Cristina Fernandez during a ceremony on Monday in Government House.
Insisting on the Olympic/Malvinas advert, the president said she was in favour of creativity and truth. "Creativity can't be censored, it must be applauded and acknowledged" and went on to describe the piece as "an excellent message made by an Argentine working for an English agency; this comes to show that the English also need to come to us for creativity".
The spot which has proved highly controversial was released last week shows Argentine field hockey captain Fernando Zylberberg training for the London Games by running in Stanley, capital of the Falklands with a strap line that says: "To compete on British soil, we train on Argentine soil".
The advert triggered strong statements from the Falklands' elected government, the UK, the International Olympic Committee, the head office from Young and Roubicam group that created the spot and also caused concern among Argentine athletes who feel the incident and its consequences could affect negatively their performance in the London Games.
However according to reports in the Buenos Aires press "the Argentine government is not going to apologize for the advert, will not take it off the air as requested by the UK government and the Y&R main offices in New York, and will be polite to the IOC".
As can be concluded from the words of the Argentine president, "the spot was a total success because of its repercussions at international level, besides the fact it has further helped with the sovereignty claim over the Malvinas".