Tax-info-exchange accord could see middle-class Argentines abandon Uruguayan banks
Thursday, May 17th 2012 - 21:19 UTC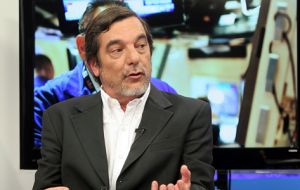 The recent tax-info exchange agreement reached between Argentina and Uruguay will make many investors in the Uruguayan financial system take their deposits back to "safes" or "mattresses" in Argentina, warned several economists during a conference on the Argentine economy prospects and its influence on neighbouring Uruguay.
Argentine economists Abel Viglione and Jose Espert gave an in depth account of the current situation in Argentina and anticipated that the economy could begin to falter and stall by the end of this year and faces a serious risk of recession in 2013.
Viglione pointed out that once the tax-info-exchange agreement is signed, "it could determine that many Argentine deposits in the Uruguayan financial system will prefer to return to their country of origin". Traditionally Argentines unconvinced of their country's economic policies have sought refuge in neighbouring Uruguayan banks, legal system and immunity from Argentine government intrusion.
Middle class Argentines precaution is understandable said Viglione, given the virtual "confiscations" which occurred in 1982, 1989 and the latest in 2002. Viglione added that most deposits in Uruguayan banks from Argentines can be ranked 'middle class" since they range between 50.000 and 150.000 US dollars.
According to official central bank stats, 15% of deposits in Uruguay belong to Argentines, "and much of that money will not remain in Uruguay and probably will return to a safe in Argentina".
"Some of the depositors might have their money declared in Argentina, but I imagine very few, so with the new tax-info-exchange it can be expected that many will return, not necessarily all, but they will, even when this does not mean there is going to be a run on Uruguayan banks", pointed out Viglione.
He added that info shows "there are no great Argentine investors in the Uruguayan financial system but yes there are in real estate and agriculture, but all of them have been clean operations so there should be no problems".
Viglione nevertheless pointed out that the tax-info-exchange agreement with Argentina, which complies with demands from international organizations, could face difficulties concerning the inclusion of a clause to avoid double taxing.
"We're just half an hour away and somebody could come over and present a government request through a court of certain financial information. It would have been much more preferable to have signed an agreement only on tax-info-exchange, to one which also includes that clause".
The outflow of bank deposits to Argentina will diminish the account of non resident depositors, but it won't be a problem for the Uruguayan financial system, said Deputy Economy minister Luis Porto.
"Argentine deposits in Uruguayan banks are equivalent to 15% of all deposits and banks hold 60% liquidity. We have reserves in the central bank totalling 12 billion dollars and in the Economy & Finance ministry treasury we have another 2.5 billion liquid for contingencies, if something unexpected happens. Full stop: no problem", said Porto
Regarding bilateral trade links with Argentina, Uruguayan economist Jose Manuel Quijano warned on the "deterioration of the relation" which is associated to "a daily violation of the Asuncion treaty (that gave birth to Mercosur) and which happens as it was something completely normal".
Quijano said that from an institutional point of view the Mercosur issue has become virtually irrelevant since relations with Argentina are focused on "a president to president level and sometimes minister to minister".
"This, he added, has led to a serious disbelief in Mercosur integration process, exactly at the moment when China is in full discussion for integration with the rest of Asia".
However Porto defended the trade links with Argentina and said that the EU protectionist measures are double those imposed by the government of President Cristina Fernandez. In the first four months of the year Uruguayan exports to the EU have fallen "dramatically" compared to a year ago, particularly Spain.
"It is far more serious than what happened in these four months with Argentina", concluded Porto.