Taiwan demands from Latam allies "fair, legal and effective" cooperation relation
Monday, May 21st 2012 - 06:39 UTC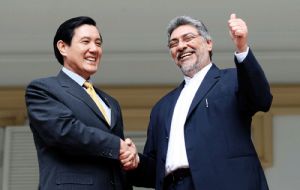 Taiwan will continue to cooperate with Latin America as long as the relation is fair, legal and effective, said re-elected president Ma Ying Jeou who also described that links with Beijing will continue to be: "no unification, no independence and no arms".
Ma Ying Jeou took office for a new mandate on Sunday and Paraguayan president Fernando Lugo attended specially invited in representation of the few Latin American leaders that still have relations with Taipei.
Addressing the delicate issue of relations with Beijing the Taiwanese president reiterated the continuation of a policy of "no unification, no independence and no arms". Although Beijing catalogues the Taipei regime as ruling a "rebel (island) province" trade, financial and family ties are quite close between the two sides.
Specifically referring to relations with Latam, the Ma Ying Jeou said that Beijing is very active in the region including with countries that have close links with Taiwan and warned that if Taipei is increasingly isolated, "this will be negative for Latam countries and obviously for relations between Taiwan and Beijing".
Ma Ying Jeou said that Taiwan has free trade agreements with six Central American countries and with Paraguay in South America, and promised to continue cooperating inn the fields of agriculture, medicine and education, but that relation "will continue to strengthen as long as those countries channel aid in a fair, legal and efficient way".
Following the swearing in ceremony the Taiwanese president received President Lugo and his Paraguayan delegation to address bilateral relations.
President Lugo thanked his peer for the donation of several helicopters which proved 'very useful during recent floods' and confirmed the matching funds for a forage plant to be inaugurated by Taiwan in Paraguay,
The Paraguayan leader also promised that relations with Taiwan will continue "to consolidate".
The importance of the visit (and Taiwanese aid) can be gauged by the delegation that accompanied President Lugo: Foreign Affairs minister Jorge Lara Castro; Agriculture and Livestock Enzo Cardozo; Industry and Commerce, Francisco Rivas plus other aides from the Executive.