Argentina experiences tighter trade surplus and slower industrial growth in May
Friday, June 22nd 2012 - 08:40 UTC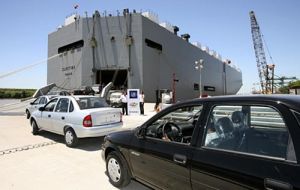 Argentina's trade surplus was 1.5 billion dollars in May, compared to 1.71bn a year earlier according to the official stats office Indec, while industrial production in the same month continued to languish, according to the medium estimate of more than 50 banks, economic research firms and universities surveyed by the Central Bank.
Exports fell 7% from the same month a year earlier to 7.6 billion, while imports fell 5% to 6 billion over the same period, the agency said in Buenos Aires on Thursday.
Industrial production has been hit by the slowdown in top trading partner Brazil, cooling growth at home and government restrictions on imports took their toll.
The government of President Cristina Fernandez is expected to report a 0.8% year-on-year increase in May's industrial production index, according to the median estimate surveyed by the Central Bank of Argentina.
Industrial production is likely to stagnate through the second half of the year, research firm Orlando J Ferreres & Asociados said in a recent report. OJF blamed the slowdown on cloudy economic prospects that are hurting investment, energy shortages, import controls and the contraction in Brazilian manufacturing.
Argentine manufacturers shipped almost 12 billion dollars in goods to Brazil last year. Brazil's industrial sector contracted 3.0% in the first quarter of 2012, however, hitting demand for Argentine imports hard.
According to OJF's own manufacturing index, May's industrial production was down 1.5% on the year, led by a sharp drop in vehicle production.
Vehicle output during the first five months of the year fell 10.5% on the year and was down 24.4% in May, according to the auto-maker association Adefa.
Vehicle exports during the first five months of the year were down 26.5% on the year, with most of that decline blamed on Brazil, which usually buys over three quarters of Argentine vehicle exports.
The decline was clear in Argentina's May trade data. Industrial exports in May fell 12% to 2.13 billion dollars, led by declines in chemicals and automobiles, Indec reported Thursday.
Metalworks are also suffering. May steel production fell 7.5% on the year and 4.5% on the month while iron output was down 11.3% on the year and 9.8% on the month, according to the steel maker chamber Acero.
Manufacturers also face soaring costs as wages and input prices rise sharply. On Thursday Argentina's teamsters union agreed to lift a strike after reaching an agreement with truck owners to raise wages by 25.5% in three steps over the next nine months.
That's in line with the annual inflation rate as estimated by most private economists and is likely to serve as a yardstick for other union wage demands.
There's also a shortage of parts, supplies and equipment caused by the government's import restrictions.
President Cristina Fernandez has resorted to harsh import barriers to protect the country's hard-currency reserves, which are a key source of funding for her government.
Meanwhile, growth at home is rapidly cooling. Argentina's economic expansion virtually ground to a halt in April, with the monthly economic activity indicator rising just 0.6% on the year and falling 1.6% on the month.
The central bank's latest GDP forecast puts growth at about 6% in 2012. But many private-sector economists have trimmed their outlook and now expect little if any growth