Cristina Fernandez receives Wen Jiabao with a long list of requests
Sunday, June 24th 2012 - 03:21 UTC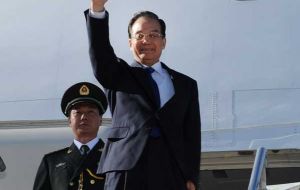 Chinese Premier Wen Jiabao arrived in Argentina Saturday on an official visit aimed at boosting trade with one of South America's top agricultural producers.
Wen who is scheduled to meet Argentine President Cristina Fernandez on Sunday has been travelling across South America since the G-20 summit in Mexico last week, with previous stops in Brazil and Uruguay. The visit continues in Chile after Argentina.
Kirchner and Wen, who met on the sidelines of the G-20 summit, have agreed to increase trade, which last year reached 14.8 billion dollars with 8 billion in China's favour.
China is Argentina's second largest trade partner, mainly dealing in agricultural products. Argentina is the world's number one exporter of flour and soy oil, number three soy bean exporter, and number two corn exporter, said Rogelio Ponton, adviser to the Rosario Board of Trade.
Buenos Aires expects to highlight plans to modernize the Belgrano Cargas railway, said Planning Minister Julio de Vido about Wen's visit in comments aired on state television.
Argentina also hopes to draw Chinese investments in its oil industry, after having seized Spanish oil company Repsol's controlling share of YPF, Argentina's largest oil company.