Red Cross to again address London over the Falklands Argentine unnamed graves
Wednesday, July 25th 2012 - 20:54 UTC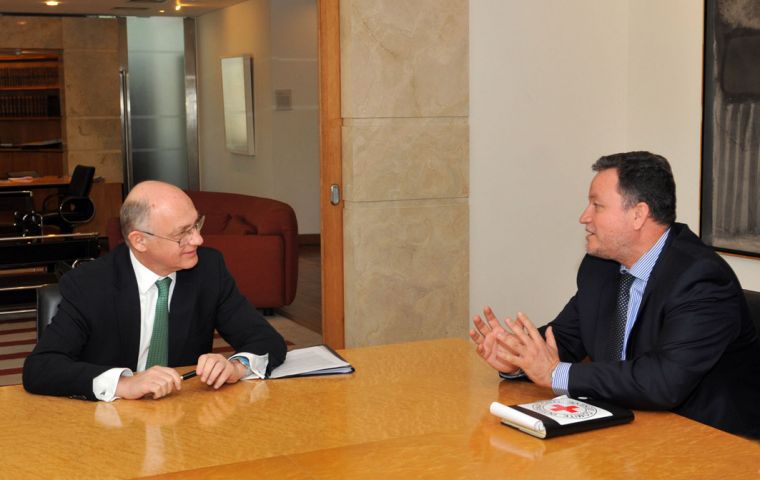 The International Red Cross pledged it will again contact British authorities with Argentina's request for special forensic groups to travel to the Falklands to identify combatants buried in Islands' unnamed graves.
Argentine Foreign Affairs minister Hector Timerman received the Red Cross representative for the area, Felipe Donoso with whom they discussed the unnamed graves at the Argentine cemetery in Darwin and other issues pertaining to the many activities of the international organization in Argentina.
Donoso is the Red Cross delegate for Argentina, Brazil, Chile, Paraguay and Uruguay and during the meeting Minister Timerman recalled that the original request was announced by President Cristina Fernandez last April 2.
On that day at an official ceremony the Argentine president said she had addressed a letter to the Red Cross president asking him to intermediate before British authorities so that the unnamed graves in Malvinas (since 1982) could be identified.
The letter said the request was humanitarian and in the framework of the right to the truth.
Regional delegate Donoso revealed that when the new Red Cross president Peter Maurer took office last June 15, a letter was addressed to London with the Argentine request, but there had been no reply yet.
Anyhow Donoso pledged that "the Red Cross would again contact the British government to try and obtain an answer as soon as possible".
However the request to send forensic teams for the identification of Argentine soldiers buried in the Falklands is not necessarily unanimous among the next of kin. Some support it enthusiastically while others prefer to keep things as they are and not remove the pain thirty years on.