Mercosur experts discuss technical aspects of Venezuela' incorporation
Monday, July 30th 2012 - 04:31 UTC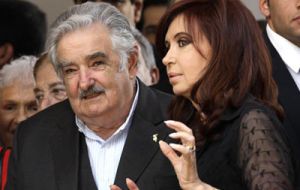 Experts from Argentina, Brazil, Uruguay and Venezuela will begin to define on Monday in Brasilia the technical procedures and timetable for the incorporation of Venezuela to Mercosur which will become official on Tuesday at an extraordinary summit of the block.
According to Brazil's Foreign Ministry, Itamaraty Palace, the presidential summit to seal the political annexation of Venezuela will include the Monday morning deliberations from the four countries experts and in the afternoon the Foreign ministers will hold their own meeting.
"The Foreign ministers meeting will be informal but the experts will begin to define the formal integration process of Venezuela into Mercosur".
The ministerial meeting will decide the agenda and work methodology for a special task force to define the technical aspects of the trade liberation program to be initiated by Venezuela until she reaches a full free trade condition with the rest of Mercosur members.
Some of the issues to be defined include a common nomenclature since Venezuela still works with the Andean Community different trade terminology, the block Caracas abandoned on April 2011.
Likewise the timetable for Venezuela to adopt the Common Foreign Tariff, (AEC), with which Mercosur members tax imports from countries outside of the group.
Another important issue to be addressed by the special task force is the list of products Venezuela will want to exclude from the AEC, to which each country has a right according to its needs and that in the cases of Argentina and Brazil includes over 200 items.
According to Caracas media, Venezuela aspires to ample exception lists at the start so that it can protect those industry sectors which need some time to reach the competitive level of other Mercosur members.
Itamaraty said despite the fact presidents from Argentina, Cristina Fernandez, Jose Mujica from Uruguay and Hugo Chavez from Venezuela are planning to arrive at Brasilia Monday evening the summit is scheduled for Tuesday when the three leaders will be received by their host Dilma Rousseff at the Planalto palace.
The meeting will be followed by the "family album photo" and lunch in Brasilia.
The extraordinary summit was agreed last 29 June in Mendoza during the regular half year meeting where the three presidents (Argentina, Brazil and Uruguay) agreed the temporary suspension of Paraguay from Mercosur because of the removal of Fernando Lugo as president of the country following his political impeachment by the Senate.
Following the suspension the three presidents decided the formal incorporation of Venezuela to Mercosur which had been approved by the legislative branches of all full members with the exception of the Paraguayan Senate that rejected such a move.
The summit will mark the return of President Chávez to the international stage as it will be his first official trip outside the Caribbean country so far in 2012, after having recently declared himself "free of cancer" following a prolonged radiotherapy in Cuba which prevented him from, among other things, to travel to Cartagena, Colombia in April to attend the Summit of the Americas.