Falklands, an "excellent investment destination" for the oil industry
Friday, August 10th 2012 - 07:03 UTC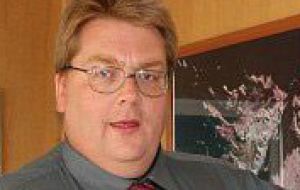 The Falkland Islands Government has welcomed the news of a farm-in agreement between Falkland Oil and Gas Ltd and US based Noble Energy which was announced on Monday and confirms the Falklands as an "excellent investment destination".
Noble Energy from Texas are acquiring a 35% stake in FOGL interests in the Falkland Islands under a farm-in deal that will assist in financing the development of FOGL future exploration program.
Director of Mineral Resources for the Falkland Islands Government Stephen Luxton said the government welcomed the entry of Noble Energy as a new partner in Falkland Islands licenses.
"Another significant international energy company has given its vote of confidence to the many interesting opportunities available in the Falklands," he said adding that: "we look forward to meeting the Noble team in due course and working with the new partnership to progress their licence interests in the South Falkland Basin."
MLA Jan Cheek said the announcement was another clear indication as to how positively the industry viewed prospects in the Falkland Islands.
"The Falkland Islands are an excellent investment destination, and as with all current and potential partners we look forward to working further with Noble Energy through the development of FOGL prospects", said MLA Jan Cheek.
FOGL spudded their Loligo exploration well located some 200 km east of the Falklands last Friday. FOGL holds a 75% interest together with joint venture partner Edison from Italy who holds the remaining 25%.
It is the first of a two well exploration program using the Leiv Eiriksson rig with the operation expected to last about 60 days.