Short of soy Brazil meat producers want to import from Bolivia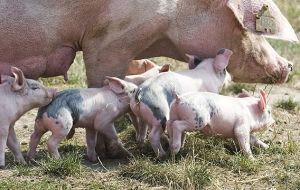 Meat producers in Brazil's Mato Grosso do Sul state are lobbying the government to approve soy imports from neighbouring Bolivia after drought shrank supplies in the world's second grower, a state official and analysts.
Farmers want some 300.000 tons of Bolivian soybeans to feed their livestock, mostly pigs, a sign that Brazil, the world's top exporter of beef and poultry and growing exporter of pork, suffers from a lack of agricultural planning.
"The federal government is doing a risk analysis because it would be the first time we import soybeans from Bolivia," said an aide for the local government in Mato Grosso do Sul.
"The local government intervened on behalf of these industries because they don't have soy" said the official.
Industry groups and conglomerates in southern Brazil have imported small amounts of soy from Paraguay in the past weeks but the government has not stepped in on their behalf.
"Paraguay doesn't have any more soy. Bolivia could be an alternative but they historically haven't had quality soy," said Carlos Davalos, an analyst at Granos Corretora in Mato Grosso do Sul. He said companies in the state have likely imported 18.000 tons of Paraguayan soybeans this year.
Brazil's soybean crop, which finished harvest in May, fell to roughly 65 million tons from a record 75 million tons the year before due to dry weather.
Analysts said farmers were lured by high prices on international markets and the local feeds industry had not prepared adequately for the drought by storing soybeans.
"In the first half of the year China bought a lot of Brazilian soy, so now our stock is zero, in fact it is probably negative," said Alexandre Mendonca de Barros, director of Sao Paulo-based consultancy MB AGRO said.
Despite the drop in soybean output, Brazil is harvesting a record corn crop. Prices of both grains are rocketing due to drought in the US farm belt and Brazil's exports are expected to reach unprecedented levels going forward.