Falklands working on finfish and loligo fishing gear to reduce by-catch
Friday, August 17th 2012 - 06:38 UTC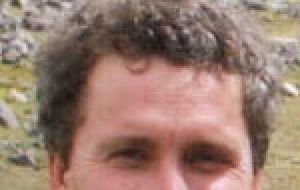 The Falkland Islands Fisheries Department scientists are currently investigating whether changes in fishing gear used in the finfish and loligo fleets can reduce by-catch, Fisheries Scientist Alexander Arkhipkin told Penguin News.
Reducing the amount of unwanted by-catch in fisheries, especially those of juvenile rock cod, is one primary conservation goals of the Department. Rock cod is a relatively small fish (30-35 cm length) and in the last five years has become a major resource in Falklands' waters with annual catches between 60.000 and 77.000 tons, of which an estimated 10-15 thousand tons are discarded at sea as undersized by-catch with little chance of survival.
For finfish fisheries, a series of research cruises have been undertaken to evaluate how different mesh sizes in trawl cod ends can reduce by-catch while sustaining fishery efficiency for commercial-size rock cod and other species including hake, kingclip, skates and Illex squid.
Preliminary results indicate that the use of larger codend mesh sizes retain more commercial size rock cod whilst effectively reducing numbers of undersized juvenile fish in the catch. There was only limited impact of larger mesh sizes on fishery efficiency for Illex squid.
Therefore, increasing codend mesh sizes in commercial trawl fisheries may maximize fishery efficiency and minimize discards of small fish and skates. A third research cruise is scheduled for October 2012.
For loligo fisheries, a research survey was recently performed and preliminary results indicated that catches of rock cod by the two types of rigging were not statistically different. Further work is required to reduce rock cod by-catch in the loligo fishery, which currently does not have mesh size restrictions. (PN).-