Edinburgh the most welcoming UK airport; Paris and Moscow the rudest in Europe
Thursday, August 23rd 2012 - 05:44 UTC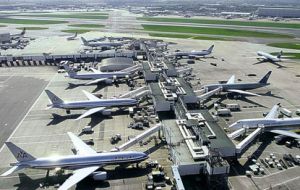 Luton is the UK's most unfriendly airport, with Edinburgh the most welcoming, according to a survey. The Bedfordshire airport got the thumbs-down from travellers asked to rate the friendliness of staff in a poll by travel search site Skyscanner.
On a scale of one being the rudest and 10 being the friendliest, Luton scored 5.76 points, with Stansted being the next rudest (5.89 points), followed by Heathrow (5.94), Gatwick (6.26) and Birmingham (6.39).
Edinburgh got a score of 7.41 points, with Newcastle the next most-friendly airport ((7.34) followed by Manchester (6.87).
Paris was voted the rudest airport in Europe, with a score of just 4.86 points. This was followed by Moscow (5.03 points) and Istanbul (5.91). While the friendliest European airport was Copenhagen (7.08 points) followed by Amsterdam (6.92).
Complaints about members of staff ranged from abrupt responses following the simplest inquiry, to the endless queues and manhandling at security.
Victoria Bailie, from Skyscanner, said: "We like to have a good moan and grumble but overall, the average scores were positive for the UK's airports.
"Despite the summer rush, they've clearly been doing a good job to help kick start our holiday on a positive note."
All those surveyed had flown in the last 12 months.