Russia joins WTO after for 18 years; Putin plans greater global role for Moscow
Thursday, August 23rd 2012 - 01:27 UTC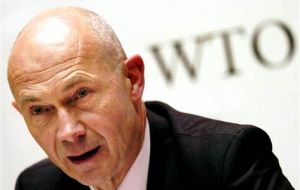 Russia's formally joined on Wednesday 22 August the World Trade Organization after having waited for 18 years. On July 21, President Vladimir Putin signed the final accession document approved by all WTO countries, a final step clearing the way for Wednesday's formal entry.
Membership came for Russia (156 seat) on the same day that the remote Pacific island nation of Vanuatu became the latest nation to enter an organisation. Vanuatu formally grabbed the 157th seat at the trade negotiating table.
Foreign tariff barriers are estimated to cost Russian exporters 1.5 billion to 2 billion dollars a year. The WTO confers lower trade barriers and equal treatment for all members.
"Both accessions show that joining the WTO remains high on the countries' agendas since trade can bring a predictable and stable basis for economic growth," WTO Director General Pascal Lamy said in a statement.
"Joining the WTO is a sign of confidence in the organisation and in what it can deliver for its members", Lamy added.
Former Russian finance minister Alexei Kudrin wrote on his Twitter account Russian membership at the WTO was "a great stimulus for developing the economy and competition".
Russia has figured for the last few years among the world's ten largest economies and is a member of the emerging economies group BRIS, Brazil, Russia, India, China and South Africa.
Russia with a 1.9 trillion dollars GDP will hold the rotating Group of 20 chairmanship next year, was the largest economy outside the WTO and had sought membership since June 1993.
President Vladimir Putin wants to win more favourable trade terms for Russian companies, harnessing the nation's potential by attracting capital and diversifying the economy of the world's biggest energy exporter.