Brazil's defence industry booming and promoting projects with neighbours
Tuesday, August 28th 2012 - 03:52 UTC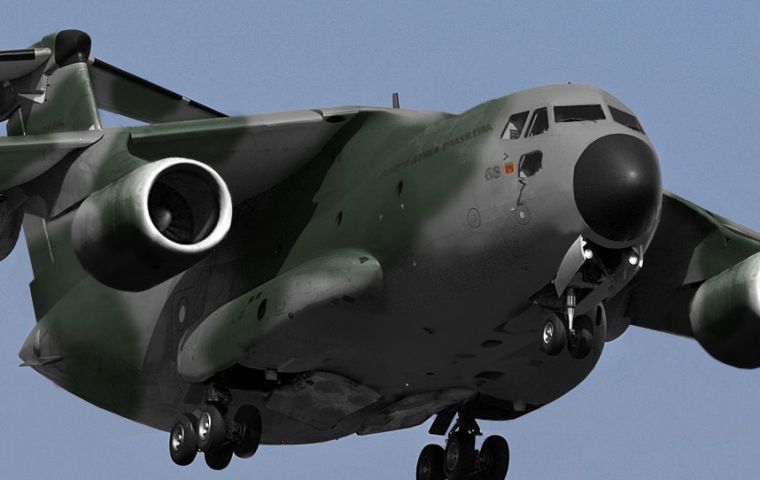 Brazil's defence industry is booming, fuelled by government incentives to modernize the country's armed forces and develop a robust, export-oriented military industrial complex. With the world's sixth largest economy, Brazil was ranked as the eighth largest arms exporter in the 1980s but currently languishes in 30th place, according to industry experts
"Companies are happy. There is a determination to grow and invest. Five years ago, it was the opposite" said Carlos Pieratoni Gamboa, vice-president of the Brazilian Association of Defence and Security Equipment (Abimde).
Abimde, which groups 170 companies, hopes to invest 12 billion dollars over the long term, planning to double the current 25.000 direct jobs it generates and boost annual export sales from 1.7 billion to 4 billion dollars.
President Dilma Rousseff, like her predecessor Lula da Silva helped fuel the current boom by investing in equipment and underscoring the strategic importance of a domestic defence industry in line with a national defence strategy unveiled in 2008.
This year, Rousseff approved incentives to boost production and domestic purchases, and Brazil has bought conventional submarines and helicopters from France, insisting on technology transfer and assembly on its territory.
It also resurrected a plan to develop, beginning in 2016, its first nuclear-powered fast attack submarine.
And a government decision is awaited on awarding a multibillion dollar contract for 36 fighter jets. The Rafale, made by French firm Dassault, is competing against US aviation giant Boeing's F/A-18 Super Hornet and Swedish manufacturer Saab's Gripen jet for the contract.
"We need this industry because it is strategic for our sovereignty, because of the size of our territory, the length of our borders and because we have been blessed with enormous (natural) wealth," Rousseff has said.
Brazil sees its neighbours and other emerging countries as natural markets for its products and has stepped up military and industrial cooperation with them. Joint projects include the new KC-390 military transport plane being developed by Brazil's top aircraft maker Embraer, with partners from Argentina, Chile and Colombia -- which also plan to buy the aircraft.
This strategy provides Brazil with customers while allaying fears of a Brazilian military build up, according to Nelson During, chief editor of the country's respected defence website DefesaNet.
Last year, Brazil's defence budget reached 36.6 billion dollars, the world's 10th largest, according to the International Institute for Strategic Studies. But more than 80% of this budget is traditionally earmarked for salaries and many investments have been postponed. The government says roughly 1.5% of the country's GDP goes to defence, much less than in several neighbouring countries and major emerging powers.