Santos rejects FARC proposal for cease fire during talks to end the conflict
Friday, September 7th 2012 - 06:09 UTC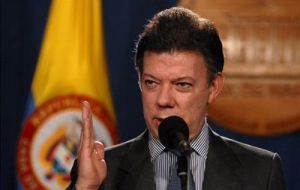 Colombian President Juan Manuel Santos rejected a proposal on Thursday by FARC rebels for a bilateral ceasefire during talks next month aimed at bringing an end to half a century of war.
The call for both sides to put down their weapons while talks are under way in Norway came earlier from leaders of the Revolutionary Armed Forces of Colombia at a news conference in Havana.
The proposal and its rejection could complicate the process from the start as Santos is adamant that Colombian military operations would continue across "every centimeter" of the Andean nation.
"I have asked that military operations be intensified, that there will be no ceasefire of any kind," Santos said during an address at a military base in Tolemaida, close to the capital.
"We won't cede anything at all until we reach the final agreement," he added. "That should be very clear."
A decade ago, during the last attempt at ending Latin America's longest-running insurgency, the rebels used a demilitarized area the size of Switzerland to beef up their military operations and establish a multibillion-dollar drug-trafficking network.
"One of the differences with past peace processes is that we won't give up one centimeter of national territory or cease operations, and those principals have to be maintained until the end," Santos said.
At its news conference, the FARC named two negotiators who will sit with government representatives in Oslo and later in Cuba to try to end a war that has left tens of thousands dead since it began in 1964.
"We are going to propose a ceasefire immediately when we sit at the table," senior FARC commander Mauricio Jaramillo said.
"Better said, we are going to fight for it. We are going to discuss it there at the table, but it is one of the first points," he said, announcing that talks would start on October 8 in Norway.
Jaramillo said the FARC would send Ivan Marquez and Jose Santrich, both high-ranking leaders, to the talks and would reveal more participants soon.
"We have always wanted peace," Jaramillo said.
Colombian Attorney General Eduardo Montealegre said on Tuesday that once the government accepted the FARC negotiators, all arrest warrants would be suspended.
The rebels said they were pursuing peace because the country needed it and sensed that the government felt the same.
But even as it prepares for the meetings, the FARC blew up two trucks at a coal mine on Tuesday and Danilo Garcia, a top rebel commander and right-hand man to FARC leader Rodrigo Londono, was killed in a bombing attack by government troops.