"You only have to fear God: and me a little bit", Cristina Fernandez scolds ministers
Friday, September 7th 2012 - 06:19 UTC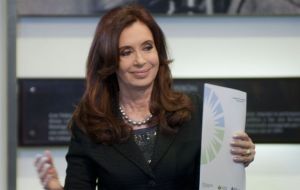 "You only have to fear God, and me a little bit, at least while you are staff that depends from me", said Argentine President Cristina Fernández publicly voicing her discontent towards some of her cabinet members after a court order interrupted a series of public works in the Buenos Aires province.

"Judges are judges, not gods. No government official should ever be afraid of excuse themselves. They should come to me and let me know if they feel something or someone is not doing things right so they will allow me to evaluate whether it's important or not. Whether we can solve it or not; I never liked when other people made decisions for me," she stated.

In a lengthy speech on Thursday, the President discussed the delayed Acumar public works, which are expected to clean up the Riachuelo River that crosses Buenos Aires city, and are delayed over a court order by Judge Luis Antonio Armella.

The Riachuelo is considered the most polluted waterway of Argentina and all new governments on taking office have promised to clean it up.

"It is my responsibility: all and each of you have signed decrees with me. In this act I solemnly notify the entire Executive branch, autarchic offices and satellites that when situations like this surface, they must be informed to me", underlined the president during her video conference from Government House, Casa Rosada.

Cristina Fernandez also announced a series of works in order to avoid new floods in the interior of the Buenos Aires province so "they don't have to experience again what happened last month".

She also used her televised speech to scold governors and business leaders.

"This president gives no orders to any governor. I recommend that every governor manages his city or province, without blaming others", said the Argentine president adding that "I could talk about how some provinces are managed and performing, and I could also talk about many provinces that are very well managed".

Several Argentine provinces have gone to court to request federal funds, which they claim belong to them under the national tax-pool distribution scheme, but which allegedly have been retained by the administration of Cristina Fernandez.

In related news the secretary-general of the CGT labour umbrella union Hugo Moyano took another swing at Cristina Fernández government and said that it acts like a mythomaniac, accusing the head of state of acting with "hatred."

"To govern is not making everyone believe all that you do is good; that is an act of mythomania," Moyano said during a radio interview. He added that "the government has a lot of hatred" and that "you are either a slave or an enemy, there is no middle ground," as a citizen and worker.

"Cristina does not see herself as a queen anymore. Now she sees herself as a goddess," the trade union leader furthered.