Chavez blocks live broadcast of an opposition rally with a national chain message
Tuesday, September 18th 2012 - 06:59 UTC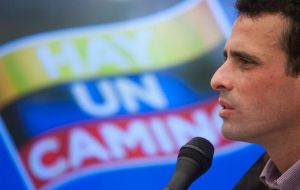 Venezuela's opposition candidate Henrique Capriles slammed President Hugo Chavez on Monday for blocking a live broadcast of an opposition rally, highlighting criticism the populist leader abuses state resources to guarantee his re-election.
Shortly after Capriles began speaking to thousands of supporters in a Caracas Park, Chavez launched a "chain broadcast" across all public access television in which he celebrated his government's achievements and extolled the virtues of socialism.
"Another radio and television chain broadcast to continue lying to Venezuelans just 20 days before the election," Capriles said via his Twitter account.
Capriles has accused Chavez of using state institutions to tilt the October 7 election in his own favour, from giving supporters cash and apartments, to using state media to glorify his image.
Government officials dismiss those charges, saying the social programs are aimed at helping the poorest, not buying votes.
Chavez says he only uses "chain" broadcasts for state business, not to boost his re-election campaign, but they often last for hours, during which he usually berates his opponents.
Local broadcasters are forced to halt their programming to carry the speeches, although the system was originally designed for brief emergency messages.
After Capriles was told his rally had been taken off the air, he told the crowd: "My friends, people are allowed to be afraid if they want."
Supporters responded with thunderous applause. The rest of Capriles' speech was screened by opposition TV station Globovision after Chavez finished talking.
Chavez leads the election race in most of the best-known polls, which are notoriously controversial and divergent in Venezuela. One major polling firm has Capriles ahead and his numbers have been edging up.
Chavez spoke for almost two hours on Monday at a school inauguration about how education has improved under his government. During the broadcast, several children thanked him for giving them laptops and ensuring access to education.
"Chavez, you are the heart of the people," said one toddler, echoing the government's principal campaign slogan.
Chavez, who won fame through a failed 1992 coup, has built up a strong emotional connection with the country's poor that has made him a formidable candidate.
On Saturday, he tugged at supporters' heart-strings by weeping during a speech at a campaign rally in which he lamented that he could no longer roam the country as in years past. That may have been a reference to his cancer diagnosed last year. He says he is cured, but it has apparently limited his ability to campaign in the streets.
Opposition leaders described the scene as histrionic crocodile tears, saying he should have cried for the victims of delinquent violence rather than for himself.
On Monday, Capriles mocked Chavez's triumphalist rhetoric in a swipe at the government's struggle to control blackouts, rampant crime and deterioration of public services.
"My revolution is that the people will have water, power and good jobs," Capriles told supporters. A day earlier, he led a rally through the Petare slum that was for years a bastion of Chavez support but in 2008 backed an opposition mayor.
Chavez has spent more than 70 hours in "chain" broadcasts since the start of the campaign on July 1, according to opposition activists that track the broadcasts.
The head of the National Electoral Authority has said that such broadcasts cannot be regulated by elections officials because they are used to inform the public about government projects and do not constitute campaign activity.
Meanwhile the central bank revealed that Venezuela's international reserves last week fell to their lowest level in more than five years. The bank said reserves dropped 300 million between Sept. 13 and Sept. 14 to 25.2 billion, the lowest since July 30, 2007.
Venezuela's reserves have fallen from 42.5 billion in January 2009 as President Hugo Chavez orders the central bank to help fund social spending with the nation's reserves as he seeks to win a third term in next month's presidential elections.
The decline in reserves could again be signaling that Venezuela will need to devalue its currency and curb spending following the vote. The central bank has transferred 3.5 billion this year and 45.7 billion since 2005 to an off-budget fund known as Fonden that Chavez uses to finance his social programs, according to private calculations.