Argentina/Venezuela planning a basic training aircraft for Unasur members
Saturday, September 22nd 2012 - 05:08 UTC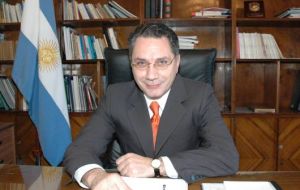 A Venezuelan military delegation is currently visiting Buenos Aires to advance cooperation agreements with Argentina and continue to consider the project for the development of a training jet aircraft for Unasur, Union of South American Nations.
The Venezuela delegation toured Argentine military installations following a meeting with top officials in the framework of the bilateral cooperation agreement which was subscribed by the two countries last July.
During the meeting Argentina Defence Ministry Secretary for International Affairs Alfredo Forti said that the purpose of the meeting was "to consolidate strategic relations between the countries of South America", according to an official release.
In the meeting some of the issues considered included aspects related to the project for the development of a basic training aircraft for Unasur; the possibility of joint production of a light armoured transport vehicle and the alternatives for Argentine technology aid to provide greater power to the engine of the Scorpion Light tank.
Furthermore the head of Argentina's Military Manufacturers Santiago Rodriguez briefed on a project, with Argentine technical support for the mounting of a nitrate ammonia plant in Venezuela.
Rodriguez also indicated that another possible area for the transfer of technology would be the acquisition by Venezuela of mobile plants for the decommissioning of defence material and equipment.
The Venezuelan delegation also visited the Argentine Naval-Industrial complex where they were briefed on the construction, refurbishing and maintenance of different types of vessels.