Argentina and Iran to discuss bombings in Buenos Aires in the nineties
Wednesday, September 26th 2012 - 06:55 UTC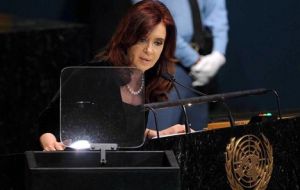 President Cristina Fernández announced that Argentina and Iran will meet to discuss the two bombings of Jewish targets in the 1990's, attacks in which Iran was accused by Argentine courts of playing a role.
Cristina Fernández announced the meeting during her speech on Tuesday at the United Nations General Assembly. She said the discussions would take place at the foreign ministry level on the sidelines of the annual gathering of UN member states.
"I must tell you I expect results from this meeting," the Head of State said.
Argentine courts have accused Iran of sponsoring a 1994 attack on a Buenos Aires Jewish centre that killed 85 people.
That assault came two years after a group linked to Iran and the Lebanese militant group Hezbollah claimed responsibility for a bomb attack on the Israeli embassy in the Argentine capital, which killed 29. Tehran has denied links to either attack.
"The bombings at the AMIA and Israel embassy still are an open wound for us, the Argentine people" the president assured as she highlighted that any decision over Tehran's proposals will be analyzed by the National Congress and the victims' families will also be consulted.
Cristina Fernandez said during her speech that she had received Iran's meeting request last Wednesday. "My country that insists on dialogue, has decided to instruct its Foreign Minister to hold a bilateral meeting in the sidelines of the UN General Assembly", she continued.
Iran has vehemently denied any role in the bombings for the past two decades, and it was unclear whether its decision to agree to a meeting now was related to mounting international pressure over its nuclear program.
Under sanctions and increasingly isolated due to its nuclear program, Tehran has few allies and needs friends. Argentina is also on the 35-nation board of the U.N. nuclear watchdog, where Iran's nuclear program is a key issue.
Nevertheless, Cristina Fernandez was careful to say that she would consult victims of the bombings during any talks - highlighting the political sensitivities she faces in Argentina, which is home to Latin America's largest Jewish population.
She also reiterated a previous offer to have courts in a third-party country investigate the bombings. To that effect she mentioned the Lockerbie case when a US passenger plane was blown up in the air by a bomb in the luggage. The case involving Libyan officials was brought to court in Holland.