CFK's positive image at a record low of 25.5%, according to latest poll
Monday, October 1st 2012 - 09:44 UTC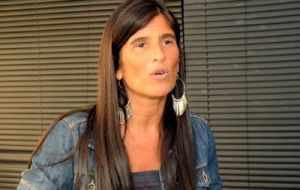 The image of Argentine President Cristina Fernandez has fallen at 25.5%, to its lowest positive, very distant from the over 54% she enjoyed last November, following her sweeping re-election, according to a public opinion poll from consultants Management & Fit released over the weekend.
The poll was done surveying 2.300 people covering the whole country and is the first to be made public following on the massive spontaneous demonstrations with pots and pans of last September 13 against the administration of President Cristina Fernandez.
According to the poll, 15.2% of those interviewed admitted having attended the protest against the Argentine government, while 64.7% said they did not go out to the streets and 19.4% admitted they could not go, but would have liked to participate.
Overall, 70% of the survey approves the way to protest, banging pots and pans, and when asked if they would be participating in the next protest which has been announced for 8 November, the replies are split in half.
The pollster who usually works for different provincial governments organized this particular poll covering the city of Buenos Aires and all regions and major cities of the country, completing 2.259 interviews.
"This is the first opinion poll after the pots and pans banging and reveals that there are more people who say they went to the demonstrations than actually did so. And this is because even when it was a massive outpour, people feel they have been listened to and want to be part of the demands. Evidently there is an empathy condition with the situation. This is a phenomenon, which is accepted and is on the increase. People are demanding urgent solutions for insecurity, corruption, inflation and also there is a beginning demand for freedom", said Mariela Fornoni, Director of M&F.