HMS Dauntless called in Colombia and joined major UNITAS naval exercise
Tuesday, October 2nd 2012 - 06:24 UTC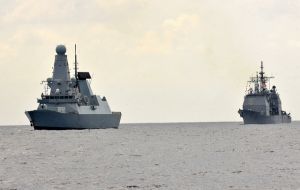 After a major naval exercise in the Caribbean with the participation of 13 warships from several countries of the Americas and following some anti-drugs patrolling in the Caribbean HMS Dauntless is expected back in Portsmouth at the end of October.
The Type45 destroyer would have then spent over six months abroad, the first leg deployed along the western African coast, later crossing over to the Falkland Islands for South Atlantic patrolling and later to the North Atlantic and Caribbean including calls to Barbados and St. Vincent.
On her first visit to Colombia during September, the £1bn destroyer provided the impressively steely setting for defense talks between the two nations at the northern historic port city of Cartagena.
In Cartagena the recently-appointed British Minister for International Security Strategy, Dr Andrew Murrison, held the first annual Anglo-Colombian strategic defense summit with his opposite number from Colombia.
D33 also served as the venue for the second of the 'Defense Security Industry' days the ship has hosted while deployed (the first was in Lagos, Nigeria), a floating showcase for UK firms and trade.
So while many of the ship's company were off enjoying the sights and sounds of the ancient walled city – proclaimed a world heritage site by UNESCO as the best preserved fortified city in South America – their shipmates toiled to prepare the destroyer and ensure she was a fitting venue to support this sales/diplomatic role.
Also part of the job has been showing off Dauntless as the best of British, cutting-edge, state-of-the-art vessel and as such hosted 44 trainee officers from the Escuela Naval de Cadetes Almirante Padilla, the Colombian counterpart to Britannia Royal Naval College in Dartmouth.
"Of course everyone thinks of a warship in its primary war-fighting role, because that's the iconic image of what we do, but events like this help to demonstrate some of the additional roles – and attributes – that a modern and versatile warship like Dauntless can deliver," said the destroyer's Commanding Officer Capt Will Warrender.
From Cartagena, HMS Dauntless left for Key West for the largest and longest running exercise in the region, UNITAS, which traces its history back to the late 1950s.
The British destroyer worked alongside a dozen warships from Brazil, Canada, Colombia, Mexico, Dominican Republic and host nation USA, as part of a wide-ranging test of the different navies to work together; the vessels are also on stand-by to provide assistance should a hurricane sweep through the region.
With UNITAS completed 28 September, HMS Dauntless will take up anti-drug-running patrols as part of the international clampdown on the narcotics trade in Caribbean waters and the Gulf of Mexico. She's due back home in Portsmouth at the end of October.