"Angry Indec" video game to make Argentine more furious about prices
Monday, October 15th 2012 - 18:54 UTC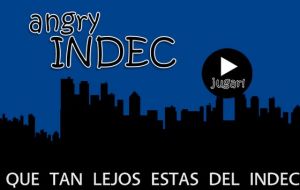 An Argentine video game allows players to compare the prices used by the National Statistics and Census Institute, Indec, to measure inflation with those consumers say they pay, a pastime that has caused angry reactions among players when they see the gap.
"Angry Indec", whose name was inspired from the popular video game "Angry Birds", has been available free online (http://angryindec.appspot.com) for a month and has been tried by hundreds of users.
"People take it with humour. The comments the players leave are amusing, but they show the anger of the people with the Indec index. But this is nothing more than a game," Sergio Viera, a 37-year-old professor at the National Technological University who developed the game along with six young systems engineering students.
The game is simple: you select one of eight available products, such as bread or meat, and you enter the price that you usually pay for it.
Immediately, the product falls into two shopping carts which, after a travelling along a route position themselves at a distance proportional to the difference between the entered price and the Indec value, an index whose viability has been called into question by economists and private consultants since early 2007.
Since the user must confirm his identity via a Twitter or Facebook account, the system takes information about his location.
That allows a map to be created with the prices entered by the different players, with red zones where the values entered by consumers are greatly above the official figures, and green zones where the prices are closer to the Indec values.
The idea for the game arose in late August at a meeting in Buenos Aires among computer developers and journalists that operates as an incubator of innovative ideas.
There, reporter Ignacio Castro proposed to young systems engineering students the idea of creating a "cooperative price map" and comparing it with Indec's prices.
"To make it more attractive, we proposed a game ... The idea of the game is to construct a heat map that shows the distance between the reality of each location in Argentina and that of Indec, and ... to have a little fun," Castro said.
Indec said Friday that Argentina's consumer prices rose in September by 0.9% over August and by 10% over the same month a year ago. However the "Congress index" which is an average of nine private agencies, impeded from making their monthly data available, said in September prices were up 1.93% and 18% in the first nine months of the year.