NASA IceBridge on its fourth edition to study Antarctica's polar ice changes
Monday, October 15th 2012 - 22:06 UTC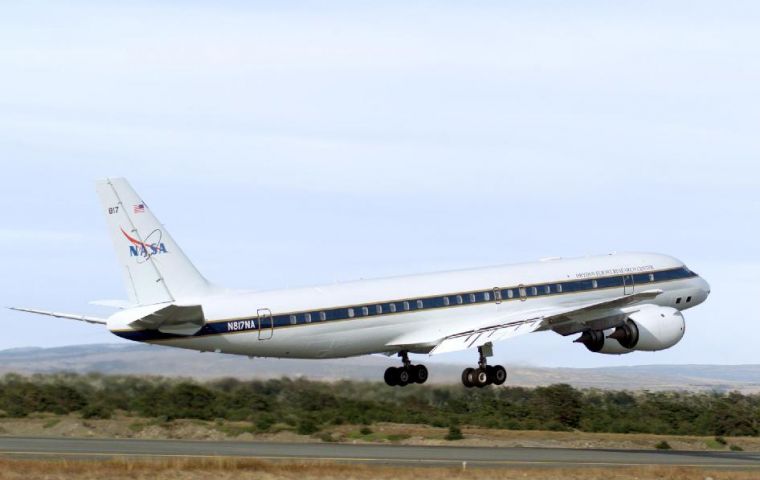 Scientists and flight crew members with Operation IceBridge, NASA's airborne mission to study Earth's changing polar ice have started another campaign over Antarctica. Now in its fourth year, IceBridge's return to the Antarctic comes almost a year after the discovery of a large rift in the continent's Pine Island Glacier.
The first science flight of the campaign began October 12 when NASA's DC-8 research aircraft left Punta Arenas, extreme south of Chile, for an 11-hour flight that took it over the Thwaites Glacier in west Antarctica.
This year, IceBridge will survey previously unmeasured areas of land and sea ice and gather further data on rapidly changing areas like Pine Island Glacier. The IceBridge Antarctic campaign will operate out of Punta Arenas through mid-November.
Several of IceBridge's planned flights focus on previously unmeasured ice streams feeding into the Weddell Sea. These flights will gather data on what lies beneath these ice streams, something vital for understanding how changing conditions might affect the flow of ice into the ocean and sea-level rise.
NASA's Operation IceBridge images Earth's polar ice in unprecedented detail to better understand processes that connect the polar regions with the global climate system.
IceBridge utilizes a highly specialized fleet of research aircraft and the most sophisticated suite of innovative science instruments ever assembled to characterize annual changes in thickness of sea ice, glaciers, and ice sheets.
In addition, IceBridge collects critical data used to predict the response of earth's polar ice to climate change and resulting sea-level rise. IceBridge also helps bridge the gap in polar observations between NASA's ICESat satellite missions.