Mapuche protest in Bariloche demand removal of statue of "the man guilty of the greatest genocide"
Wednesday, October 17th 2012 - 20:57 UTC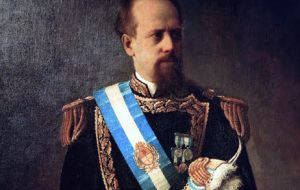 Members from the indigenous Mapuche community in Patagonia protested angrily at the south Argentina resort of Bariloche demanding that a statue in honour of President General Julio A Roca be removed since "he was responsible for the greatest genocide in our history".
Although the original motive of the protest was the delay in the building of a cooperative housing complex, demonstrators aired their fury against the equestrian statue of the man who led what is known in Argentine history as 'the conquest of the desert (Patagonia)' which he accomplished with no mercy or consideration for indigenous peoples among which the Mapuche who live on both sides of the Andes cordillera.
Roca with a long military career referred to the conquest as the "frontier problem" and effectively put under government control all land up to the Rio Negro in a campaign that as he promised would "extinguish, subdue or expel" the Indians who inhabited there. These land conquest would also strengthen Argentina's strategic position against Chile that was advancing from the extreme south but at the time was engaged in the Pacific War against Peru and Bolivia.
Due to his military successes and the massive territorial gains linked with them, Roca later became Argentine president.
The protestors during the demonstration in downtown Bariloche put up a sing in the statue saying "Roca murderer" and called for the removal of the bronze since "it represents nobody in this community". "Many of our cooperative members are of Mapuche origin and the presence of the statue is offensive since this man slaughtered their ancestors", said the protestors.
They went further and tied leather straps to the statue and tried to saw the horse's legs and started pulling but police intervened followed by incidents.
Scuffles continued, before fearful tourists, until the protestors were received at Town Hall by Mayor Omar Goye who was also present with the Rio Negro province Social development minister Ernesto Paillalef.
Mayor Goye promised he would study the possibility of sending to the local Council an initiative to remove the Roca statue to somewhere else less prominent in the resort.
Authorities and protestors then marched to the main square next to Town Hall and had an open discussion on the cooperative housing construction delay and jobs for the region with some government funded employment plans considered.
Bariloche and surrounding areas which depend on tourism and livestock suffered greatly with the ash blanket that covered the area for months following the eruption of a Chilean volcano in the Andes next to the border earlier this year.
October is an especially distressing month for indigenous people ever more aware of their current conditions but proud of their ancestry, on both sides, Chile and Argentina, particularly because Europeans celebrate the discovery of the Americas by Columbus. For the indigenous peoples it is no celebration, it is "the last day of freedom".